Attackers defeated in mall siege, Kenya's president says
Six security officers, at least five terrorists and at least 61 civilians dead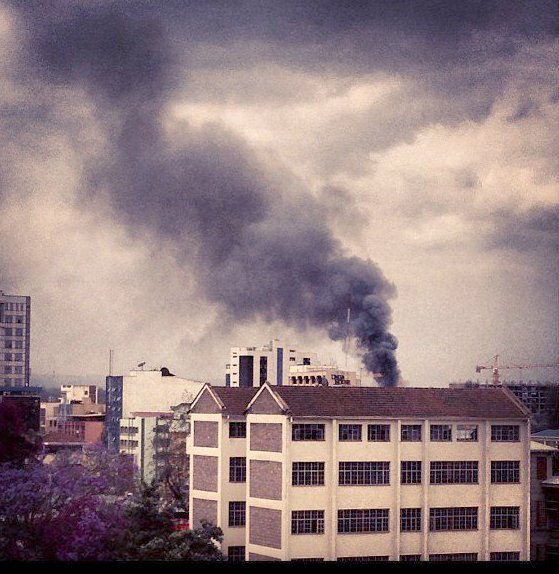 NAIROBI, Kenya — After four days of bloody mayhem, Kenyan security forces have "ashamed and defeated" the terrorist gunmen who had besieged Nairobi's Westgate Mall, President Uhuru Kenyatta said Tuesday.
In a nationally televised address, Kenyatta declared his country "bloodied but unbowed" after the attack.
"We confronted this evil without flinching, confronted our deep grief and pain, and conquered it," he said.
Five terrorists were killed in the fighting, Kenyatta said. Eleven other people had been arrested over possible connections to the attack.
The victory came at a cost: at least 61 civilian deaths, six dead security officers and some 175 injuries. Sixty-two people remain hospitalized, he said. The Kenya Red Cross was reporting 62 deaths.
The death toll may yet rise. The Red Cross said 65 people remain unaccounted for, and Kenyatta said three floors of the mall had collapsed, trapping some bodies.
He did not explain the cause of the collapse, but fires and explosions had been noted at the upscale venue throughout parts of the last two days.
'Full accountability'
Attention now turns to investigating the siege, the bloodiest terrorist attack in Kenya since the 1998 bombing of the U.S. Embassy in Nairobi.
Kenyatta said forensic teams were working Tuesday at the mall to find out more about the attack and its perpetrators, believed to be members of the Somalia-based Al-Shabaab terror group.
Among their tasks would be determining the nationalities of the attackers, who had claimed to count Americans and other Westerners among their ranks. Kenyatta said he could not confirm reports that two or three Americans and a British woman were among the attackers.
U.S. law enforcement sources said they were scouring intelligence reports for evidence of a U.S. connection, but a senior U.S. official said Monday the claim was looking less solid as they continued to investigate.
Kenyatta promised "full accountability" for the "mindless destruction, deaths, pain, loss and suffering we have all undergone as a national family."
"These cowards will meet justice as will their accomplices and patrons wherever they are," he vowed, pledging to work with international allies in a global fight against terrorism.
Kenya is a key U.S. partner in battling Islamist terrorism and has also contributed military forces to an African Union expedition to fight Al-Shabaab forces in Somalia.
It was in retribution for that mission that Al-Shabaab claimed it was staging the Westgate attack.
Kenyatta's address came at tend of a two-day stretch during which Kenyan authorities frequently claimed control over the mall despite continued sporadic gunfire and explosions coming from it.
Tuesday morning, security forces said they were making final sweeps of the mall and dealing with explosives left behind by terrorists.
The siege
The harrowing episode began midday Saturday in Nairobi when some 10 to 15 gunmen stormed the mall, shooting indiscriminately, according to witness accounts.
Witnesses said the gunmen went from store to store, shooting people, and then took hostages.
Mwagi Dorcas told CNN's "New Day" on Tuesday that she hid behind luggage in the mall's ground-floor grocery store, memorizing a Muslim prayer sent to her by family in a desperate bid to save her life should attackers find her. Al-Shabaab and some witnesses have said the attackers quizzed shoppers about their faith before deciding whether to kill them, releasing Muslims and targeting many others.