New with interview Pope Francis shows why he is so beloved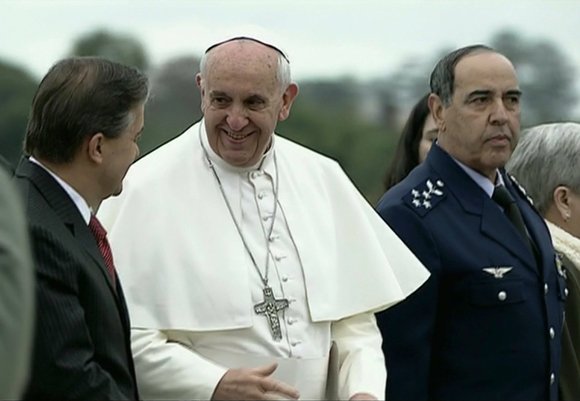 "The dogmatic and moral teachings of the church are not all equivalent."
This comment illuminates a part of Catholic doctrine often forgotten today by some Catholics.
Theologians call this the "hierarchy of truths," a kind of ladder of beliefs in order of importance. The simplest example is that agreeing with what your local pastor says about a Sunday Gospel reading is not on par with believing in the Resurrection. The latter is essential for belief and communion in the church; the former much less so. But when you talk about the "hierarchy of truths," some Catholics grow uneasy, suspecting that you are watering down the church's teaching. But the pope makes it clear that he understands this tradition.
Francis also says that church teaching is not to be a "disjointed multitude of doctrines to be imposed insistently." While belief is essential, the transmission of beliefs is not to be forced upon people. Christianity is primarily a religion of invitation, and not simply an invitation to adhere to certain beliefs, but, more importantly, an invitation to encounter a person: Jesus Christ.
"If the Christian is a restorationist, a legalist, if he wants everything clear and safe, then he will find nothing."
Pope Francis is comfortable with gray. In the America interview, he speaks out against what he calls a "doctrinal security" and offers a critique of those who "stubbornly try to recover a past that no longer exists."
Francis asks Catholics to move away from a church that has "locked itself up in small things, in small-minded rules." He invites Catholics into the world of uncertainty, which is where most of us live anyway.
But there is one thing that the pope is sure of. In the best Jesuit tradition, which asks us to "find God in all things," the pope speaks of his commitment to finding God in every human being. For me, this was the most moving part of the interview: "I have a dogmatic certainty: God is in every person's life. God is in everyone's life… Even if the life of a person has been a disaster, even if it is destroyed by vices, drugs or anything else — God is in this person's life. You can, you must try to seek God in every human life."
"I am a sinner. This is the most accurate definition. It is not a figure of speech, a literary genre. I am a sinner."
What may strike people is not only what Francis says in this new interview, but how he says it. Its tone is open, gentle, conversational, thoughtful and above all friendly.
At the beginning of the interview, in answer to the question, "Who is Jorge Mario Bergoglio?" he answers "I am a sinner." The pope doesn't use the traditional Jesuit way of expressing this idea. Normally, a Jesuit would say that he is a "loved sinner" or a "sinner redeemed by Christ."
No, the pope is blunt. No sugarcoating here. Of course Francis knows that he is redeemed by God, and he knows he is loved by God. But he feels in his bones that he is a sinner: imperfect, flawed and struggling. As are we all.
Maybe that's what makes him so loved, and so eager to love.
The Rev. James Martin, is editor at large at America magazine, and author of "The Jesuit Guide to Almost Everything." The opinions expressed in this commentary are solely those of James Martin.
Rev. James Martin | CNN