New with interview Pope Francis shows why he is so beloved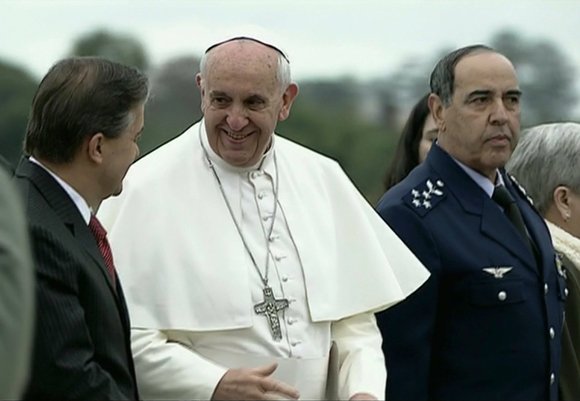 Here at America magazine, we've been anticipating the exclusive interview with Pope Francis for Jesuit journals worldwide for weeks.
We've lived with the 12,000-word article we've titled "A Big Heart Open to God," and, in a sense, with the pope over these last several days.
So let me suggest what I feel to be the most important parts of this remarkable interview. To focus, I'll highlight a few quotes and unpack them.
"My authoritarian and quick manner of making decisions led me to have serious problems and to be accused of being ultraconservative."
Pope Francis is speaking of his time as a Jesuit leader in Argentina in the 1970s, a difficult time for him, for the Argentine people and Argentine Jesuits. The pope is frank about what he sees as his own failings as Jorge Mario Bergoglio during that controversy-filled period.
He says that he made rash and hasty decisions. Later in the interview he returns to that theme, saying bluntly that he has realized that for him the first decision he arrives at "is usually the wrong thing." Without delving into the choices that he made during his time as a Jesuit provincial (at the extremely young age of 36, which he calls "crazy"), what strikes me about this self-examination is its brutal, almost embarrassing, candor.
The former Jesuit provincial does not say, "Mistakes were made." Or, "Things could have been done better." Rather, he offers a blunt assessment of himself as an imperfect human being who "created problems." Part of the Christian spiritual tradition is an "examination of conscience," an examination of one's moral activity.
The church is in very good hands with someone able to examine his conscience not only honestly but in a radically open manner in a worldwide interview.
"A person once asked me, in a provocative manner, if I approved of homosexuality. I replied with another question: 'Tell me, when God looks at a gay person, does he endorse the existence of this person, or reject and condemn this person? We must always consider the person."
During his in-flight media conference from World Youth Day in Rio de Janeiro this summer, Pope Francis made headlines when he uttered his now-famous words, "Who am I to judge?" when asked a question about gay priests in the church.
At the time, several commentators opined that the pope's words were not only uninteresting (since the pope did not change any church teaching), they were also limited, applying only, they said, to gay priests. But in our interview, Francis speaks about gay persons in general, and he notes that his comments during the in-flight conference referred to gay persons, not simply gay priests.
The new interview continues his more open, pastoral stance toward gays and lesbians. While none of this changes church teaching, the pope's words have changed the way the church speaks to and about gay persons. And that is new. There is a reason why many LGBT Catholics have told me that they feel more welcome in the church these days.