Lights, camera, Acton!
Local city is AV hot spot for filming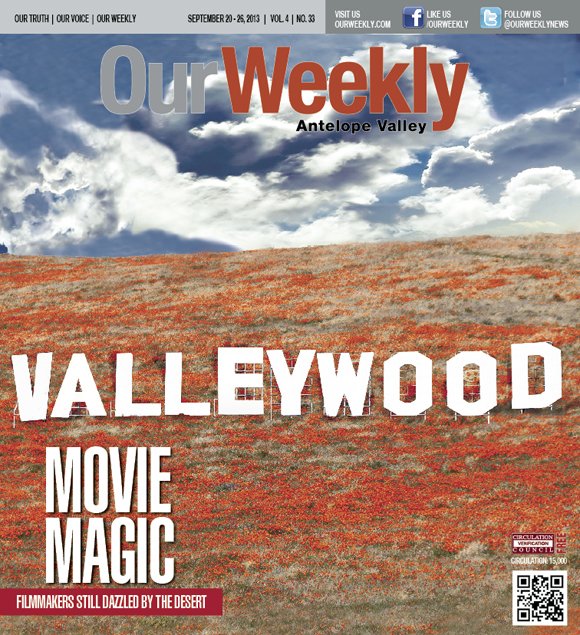 Although Los Angeles continues to see the motion picture and television industries flee the city to save money, the Antelope Valley has been making considerable strides in welcoming crews to film here and benefit the local economy.
The Antelope Valley Film Office this month released its yearly report and says the number of film permits issued between July 2012 and July 2013 were up four percent over the same period in 2011-2012. Within the past year, officials report 13 commercials, 11 television programs, eight motion pictures and three music videos selected Lancaster as their backdrop. The report stated the top three revenue-generating categories (commercials, television shows and feature films) accounted for an impressive 82 percent of filming in Lancaster.
That is welcome news to municipal officials who tout the city as a "new frontier" of solar power, new business start-ups/relocation and now television and movie production.
"On-location filming is great for the entire Antelope Valley," said Lancaster Mayor R. Rex Parris. "This past fiscal year, it generated an economic impact of nearly $10 million. We must continue our mission to always be a film-ready and business-friendly location."
It has been a good year for local film production, up four percent and totaling 332 permits as opposed to 289 in fiscal year 2011-12. Production days were said to be up 10 pecent, with a total of 553 days of shooting versus 503 during the previous fiscal year.
Traditionally "on-location" filming has a positive economic impact for any community: money is received through local rental fees, hotel stays, food and beverage purchases, gas, equipment rentals and basic construction supplies (lumber for sets, paint for backdrops, etc.). Not to be forgotten are sales taxes, permit fees and what are called "transient occupancy taxes" (assessed in California when occupying a room(s) at a hotel, inn, motel or house).
One unique feature that draws filmmakers and others to Lancaster is the nostalgic "motel row" featuring 1950s- and 1960s-era architecture en vogue among such TV shows as the AMC drama "Mad Men" and USAs "Suits," or popular films like "Catch Me If You Can," "Pleasantville" or "Dreamgirls."
Other venues in Lancaster which have appealed to Hollywood include Lancaster Municipal Stadium, William J. Fox Airfield, Antelope Valley Fairgrounds, Elks Lodge and Lancaster City Park. A number of television shows have been filmed in Lancaster over the past year, including the reality shows "Extreme Makeover Weightloss Edition," "Top Gear," "Barter Kings" and "Storage Wars." Scenes from conventional television dramas filmed recently in Lancaster include the CBS drama "The Mentalist" and the new TNT series "Lost Angels." The latter expected to air this year. Also, the reality series "Truck Off" has been staged at the University of Antelope Valley campus on Sierra Highway.
There have been two Super Bowl commercials filmed in Lancaster (a "Head and Shoulders" spot featuring C.J. Wilson of the Los Angeles Angels of Anaheim, filmed at Hangar Stadium) and a Hyundai Motors commercial filmed on the streets of Lancaster.
All total, there were 289 productions—from feature films, to commercials to music videos—shot in Lancaster over the past year. The most popular locales are the Antelope Valley Poppy Reserve, (popular because of the colorful backdrop it presents yearly from mid-March through mid-May), Saddleback Butte State Park (a granite mountaintop elevated 3,651 feet overlooing the alluvial bottom land of the Antelope Valley—the western edge of the Mojave Desert), Koch's Movie Ranch in Acton, and Hacienda Lane Ranch (between Quartz Hill and Leona Valley) noted for western "period" films.