Ayvani Perez found alive; Strangers raise $90,000 for Glen James; Nina Davuluri crowned Miss America
9/20/2013, midnight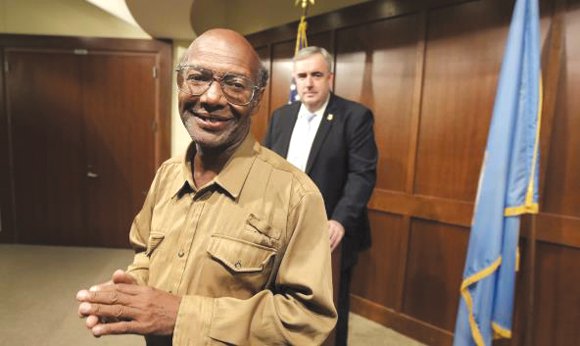 Alabama
Hundreds of people gathered on the campus of the University of Alabama to protest alleged segregation in the university's Greek system, even as the school took steps to deal with the problem. The crowd—made up of students, faculty, and members of the university's sororities and fraternities—voiced their concerns over recent events that have brought to light a campus culture of what some students call "institutionalized racism. "Last week, an article in the University of Alabama's student newspaper, The Crimson White, claimed that several sororities on campus had denied membership opportunities to Black students because of their race. The article relied on the account of one named sorority sister and several other anonymous contributors who painted a picture of a segregated Greek system yearning for change. The school is responding with some initiatives that could help integrate the Greek landscape on campus.
Georgia
The family of Ayvani Perez rejoiced when the Georgia teen was found alive. It was a happy outcome to a horrifying home-invasion-turned abduction. But authorities say there's more to the story: a connection between one of the suspects and Ayvani's mom. The two were once arrested together during a drug bust. Ayvani's mother, Maria Corral, and Juan Alberto Contreras-Rodriguez were among five people arrested during a drug raid in 2012 in Henry County, south of Atlanta, Immigration and Customs Enforcement agents told CNN affiliate WSB-TV. Drug agents found 500 pounds of marijuana in the home where the bust took place, WSB said. All were charged with trafficking marijuana. While charges against Corral and Contreras-Rodriguez were later dropped, the development indicates this week's kidnapping may not be as random as authorities first thought, say immigration officials.
Kansas
A Kansas City mother saw her son on surveillance video robbing an 85-year-old military veteran, and she turned him in at a Kansas City police station, authorities said Monday. The surveillance video of the veteran being robbed twice upset many in the Kansas City area. The disabled man was badly beaten the first time, and two days later a group of nine teens and young men came to his home to rob him. According to court documents, the man feared for his life and didn't resist the second time. His home surveillance video showed that Michael Bray, 18, stood at the door, pulled a gun from his pocket and pointed it at the elderly man, according to court documents. The others ran into the home and stole a rifle, handgun, thousands of rounds of ammunition and a smartphone. Bray was charged Monday with first-degree robbery, first-degree burglary and two counts of armed criminal action. Bray's mother took him on Friday to the Kansas City Police Department's Center Patrol Station. She told officers that she recognized her son from news footage and had confronted him about it. She said he admitted his involvement, according to court documents.
Massachusetts
Glen James, the homeless man who found a backpack stuffed with thousands of dollars in cash and traveler's checks in a Boston-area mall, returned it to police, and now karma is coming back around to reward him. The Boston Police Department issued him a special citation for his honesty, and a fund set up for him by a stranger has skyrocketed to more than $90,000, more than double what he returned. The fund, set up on the crowdfunding site GoFundMe.com, was started by Ethan Whittington, who thought he could do something nice for the man and raise a few hundred dollars. "Let's all chip in and help this man change his life. Every little donation helps," Whittington wrote on the page. "Let's be reassured that there is still hope and humanity in our great nation." Much to his surprise, within the first 24 hours, strangers had kicked in more than $55,000. Now, that number has topped $90,000. All of that money will go to James, and the donations haven't stopped pouring in yet.