Oklahoma deputies pull bodies from lake
Routine police training with sonar gear leads to macabre discovery at lake bottom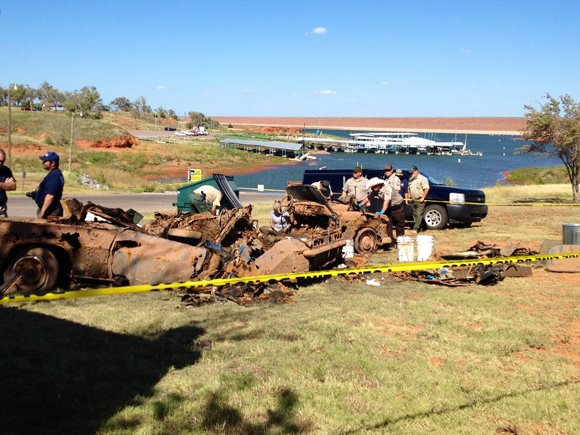 Sayre residents were horrified after the disappearances and held a candlelight vigil for the teens as recently as four years ago.
"A lot of people showed up, and it brought awareness," said Dayva Spitzer, co-editor and publisher of The Sayre Record & Beckham County Democrat weekly newspaper. "It was very nicely done."
Police Chief Ronnie Harrold told CNN that local residents have been making up their own theories about what became of the three teens for the 26 years he's been there.
A grandfather disappears and leaves no trace
Debbie McManaman said she believes the older car contains the remains of her grandfather, John Alva Porter.
Porter, then 69, was traveling in a green Chevy with a sibling, Alrie Porter, and friend Nora Marie Duncan, 58, on April 8, 1969, when they all went missing, said Mike Nance, regional system administrator for the National Missing and Unidentified Persons System.
"It's been so long — 44 years. There are a lot of things in between there we can't answer, because we don't know," McManaman told CNN on Wednesday. "His bank account was there, his house was locked up. Utilities were on. He just walked away."
John Porter used to ride bulls and take part in Wild West shows.
At the lake, Ervie Porter, the son of John Porter, watched as investigators crawled around the cars. Now 85, the younger Porter suffers from dementia.
He told CNN he has spent a long time searching for his father.
"Still looking for him. But this is going to help me a whole lot."
Divers search in, around vehicles
After the two cars were pulled out, dive teams with the Oklahoma Highway Patrol scoured the lake bottom again.
"The divers then went back in the water and searched around," said spokeswoman Betsy Randolph, "and found a skull."
Splawn said he found a skull, femur and some smaller bones during the additional search.
"This is the first time this has ever happened to me," he said.
After thorough searches, both vehicles were towed away Wednesday evening.
Trooper George Hoyle was operating the sonar equipment that last week spotted the two vehicles.
Foss Lake is down substantially because of a drought and that could have been a factor in the discovery, officials said.
Hoyle said he hopes families now will receive answers.
"It feels very good to us to be able to help them get that closure so they can have some resolve and serenity in their own lives," he said.
Identification of remains will take time
The Oklahoma chief medical examiner's office will examine the remains once they are removed from the vehicles and "will possibly try to match DNA of those remains with known surviving family members," a Custer County Sheriff's Office statement said.
The remains will be first evaluated by using any identification cards, jewelry and teeth found on the bodies, said Chief Medical Examiner Eric Pfeifer. A muddied wallet, a purse and two corroded rifles were among the items recovered.
Authorities cautioned Wednesday, however, that positive identification could take years. The state anthropologist, Angela Berg, will examine the remains.