Hurricane Manuel hits Mexico; dozens missing after mudslide
Rains from storms have killed at least 80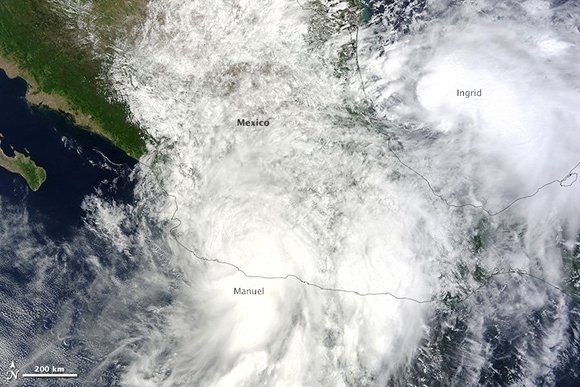 Residents there sent photos to CNN showing streets that looked like rivers, with the tops of cars sticking out of the flood waters.
And to the south, over the Yucatan Peninsula, another area of low pressure had a 70% chance of becoming a tropical cyclone within 48 hours, the National Hurricane Center said.
More than 1 million residents across Mexico have been affected in some way by the storms, Interior Minister Miguel Angel Osorio Chong told reporters.
Acapulco airport operator Centro Norte Airport Group moved its ticketing process to a convention center because of flooding in the passenger terminals.
Several airlines were waiving fees and helping get passengers out as the airport began to operate again.
A break in the rain allowed some 2,000 people to be flown from Acapulco to Mexico City as of Tuesday night.
Mexico City resident Edgar Nava was one of them.
When he arrived in Acapulco Friday and asked about the rains, he said police told him everything was fine. But Nava told CNNMexico he spent four nights terrified and trapped by flooding in an apartment with three friends.
He flew out of Acapulco on a military airplane that evacuated tourists on Tuesday, leaving his car behind in the resort city.
"I never imagined it would be like this .... There is no way to take the highway," he said. "Later I will have to figure out how to come back to get it."
The Acapulco city government said some 40,000 tourists had been stranded in the resort destination. The government set up special hotlines to help tourists, and businesses were offering special discounts for those who found themselves stuck.
"The aid is flowing," Mexican President Enrique Peña Nieto told reporters. "A large deployment (of resources) is being made specifically to the most affected areas."
The severe weather made it difficult for aid to be airlifted into the hardest-hit areas, but those efforts resumed Wednesday, he said.
CNN's Shasta Darlington, Brian Walker, Catherine E. Shoichet and Marysabel Huston-Crespo and CNNMexico's Laura Reyes contributed to this report.
Mariano Castillo and Catherine E. Shoichet | CNN