What iPhone, iPad owners need to know about iOS 7
A new OS can include bugs or slow down older devices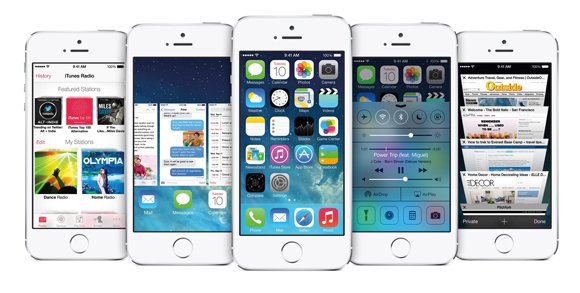 At the press event announcing the new models, Apple CEO Tim Cook said there were 600 million devices running iOS. Just because you have a year-old iPhone 5 doesn't mean you can't freshen it up with the latest operating system. Look for your device below to see whether it is eligible.
iPhone (original): No
iPhone 3G: No
iPhone 3GS: No
iPhone 4: Yes. Does not include AirDrop, Siri or camera filters (you can add filters later in the photos app).
iPhone 4S: Yes. No AirDrop.
iPhone 5: Yes. Includes all new iOS 7 features.
iPod Touch: Only the 5th-generation iPod Touch can upgrade but will include all new iOS 7 features.
iPad (original): No
iPad 2: Yes. No AirDrop, Siri, camera filters or square format, or Photos app filters.
iPad 3rd generation: Yes. No AirDrop or camera filters.
iPad 4th generation: Yes
iPad Mini: Yes
Some of the cooler new features you may have heard about, like the Touch ID fingerprint sensor and the new camera tools — slow-motion, burst mode and image-stabilization — are available only on the new Phone 5S.
Should I update?
Just because your device is compatible doesn't mean it should be upgraded right away. Once you update your device to iOS 7, there is no going back to iOS 6 or whichever earlier iOS you were running. (Yes, there are unofficial ways to downgrade, but these are not recommended for regular iPhone and iPad users.)
If you are not in a rush, wait a few weeks or months until Apple releases the first updated version of iOS 7. The early releases of the operation system can include bugs that should be addressed with subsequent iOS 7 updates. Let other eager people spend the next few weeks finding and reporting these issues so you don't have to deal with them.
Older devices can experience frustrating performance issues when upgraded to a new OS. The iOS 7 software was designed specifically for the hardware that's faster than your trusty old iPhone 4. If your device is anything older than the most recent generation, it might suddenly slow down, and battery life can suffer.
This should not be as much of a problem for newer devices, such as the iPhone 5, 4th generation iPad and iPad Mini, or the latest iPod Touch. If you are worried about performance issues, skip the update.
Updating immediately is recommended only for tech-savvy early adopters who are comfortable with the risks.
Are there any downsides of not updating?
Immediately, not much. You won't have the new features to play with, but your phone will continue to work as it always did.
In the long run, there could be a few drawbacks. Apple has been pushing developers to update their apps to be iOS 7 compatible. The updates can be as minor as changing the look of an icon or as major as adding all new features. Many developers may stop updating and supporting older versions of their apps as they move their focus to iOS 7. That means eventually, you could be stuck with out-of-date (or even non-working) versions of your favorite apps.