Are nanodiamond-encrusted teeth the future of dental implants?
Nanoscale gems deliver proteins to enhance bone formation
UCLA | 9/18/2013, 12:26 p.m.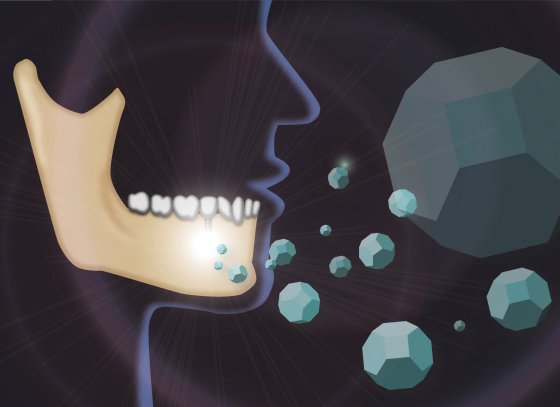 Ho's team previously showed that nanodiamonds in preclinical models were effective at treating multiple forms of cancer. Because osteonecrosis can be a side effect of chemotherapy, the group decided to examine whether nanodiamonds might help treat the bone loss as well. Results from the new study could open the door for this versatile material to be used to address multiple challenges in drug delivery, regenerative medicine and other fields.
"This discovery serves as a foundation for the future of nanotechnology in dentistry, orthopedics and other domains in medicine," said Dr. No-Hee Park, dean of the School of Dentistry. "Dr. Ho and his team have demonstrated the enormous potential of the nanodiamonds toward improving patient care. He is a pioneer in his field."
The UCLA School of Dentistry is dedicated to improving the oral and systemic health of the people of California, the nation and the world through its teaching, research, patient care and public service initiatives. The School of Dentistry provides education and training programs that develop leaders in dental education, research, the profession and the community. The School of Dentistry also conducts research programs that generate new knowledge, promote oral health and investigate the cause, prevention, diagnosis and treatment of oral disease in an individualized disease-prevention and management model; and delivers patient-centered oral health care to the community and the state.