Naomi Campbell, Iman call for an end to runway racism
Racial diversity initiative Diversity Coalition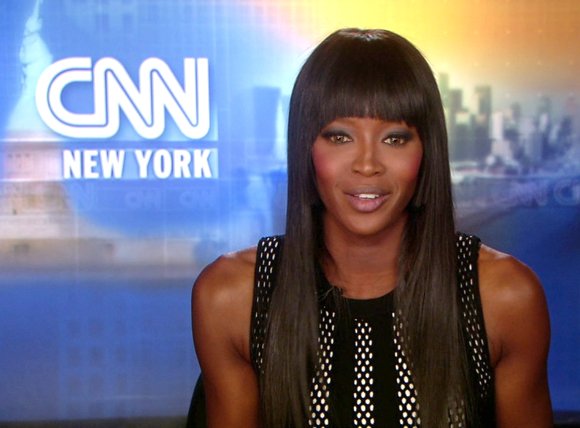 "We're more discerning about the type of Black girl we take, because we know they have to be stunningly beautiful, have an incredible body. "
"They have to be actually perfect" she says, whereas white girls, can be more quirky-looking.
Token diversity
Back at The Savoy Hotel, Nadja is walking for Temperley London as one of only three non-White models in the cast. She feels lucky to get work, but says it's harder for Black models compared to their White peers.
"When I come to a show the hairdressers are not really ready for a Black girl, for Black hair. The makeup artists, they don't know how to do Black skin. I can feel it sometimes — to be a Black girl it's a bit tougher than for a White girl or a European girl."
Nadja says she sometimes feels like the token Black girl in a show.
"I would love to be booked for shows ... because I am me - for my personality, for the person, for the model I am and not because I will be the only Black girl for the show."
This tokenistic attitude towards diversity is something Campbell, Iman and Hardison are trying to tackle. But designers complain that they don't have enough good Black models to choose from.
"There are not enough models coming to castings that are Black," designer Alice Temperley told CNN. "That's basically not having the choice."
Lasting change
Iman also criticizes casting directors and stylists for their part in providing too few Black models to designers. She says it's an attitude that has to change.
"I don't want to ever hear again a young model telling me that [casting directors] have said to her: 'We are not seeing Black models this season.' To me that's offensive. To me that's a racist remark."
The Diversity Coalition hopes that by getting the conversation started and raising awareness of the lack of Black models, they will force out discrimination from all corners of the industry.
Campbell says they'll keep speaking out until they see real change that lasts from season to season.
"We don't want this to be a trend. We want this to last."
In this famously fickle industry, these three women have a fight on their hands.
Florence Davey-Attlee | CNN