TSA agent charged for false threats; Hawaii's molasses spill endanger sea life; George Zimmerman arrested after domestic dispute
9/13/2013, midnight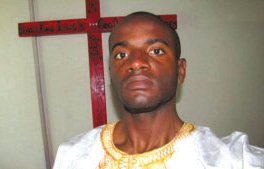 Alabama
Congress on Tuesday bestowed its highest civilian honor on the four African American girls killed in a 1963 church bombing in Birmingham. Addie Mae Collins, Carole Robertson and Cynthia Wesley, all 14, and Denise McNair, 11, were killed during Sunday services on Sept. 15, 1963, at 16th Street Baptist Church. Their senseless deaths "awakened the slumbering consciousness of America and galvanized the civil rights movement," Alabama Rep. Terri Sewell said at the Congressional Gold Medal ceremony at the U.S. Capitol. "Fifty years later, we finally honor their life and legacy. Justice delayed but not denied," Sewell said.
Arizona
A Phoenix man is recovering after his legs and pelvis were crushed by a 30-ton boulder during a rock slide in northern Arizona. Investigators said the victim was trying to move another boulder that had fallen onto Mount Elden Lookout Road, which is about three miles up from the bottom of the mountain. An ambulance and fire truck were not able to get to the location because of poor road conditions. Rescuers used a four-wheel drive vehicle to reach the area. The victim was then driven out and transferred to a waiting ambulance. The Coconino National Forest has closed Elden Lookout Road and may be temporarily closing other trails and areas affected by the recent soaking rains.
California
Additional police officers were patrolling Los Angeles International Airport and two other airports Wednesday after a former Transportation Security Administration (TSA) employee was accused of making a false threat against LAX, authorities said. The beefed-up patrols were also a precaution on the anniversary of the Sept. 11, 2001, terror attacks, police said. Increased security was also implement at two other airports—LA/Ontario International Airport in Ontario, Calif., and Van Nuys Airport in Van Nuys, police said. Nna Alpha Onuoha, a former TSA employee, was in a federal court in Los Angeles on Wednesday afternoon waiting to make his initial appearance on a count of making a false threat and a count of making threats against interstate commerce, said Thom Mrozek, a spokesman for the U.S. Attorney's Office. The two charges together carry a maximum sentence of 15 years in prison, he said.
Colorado
An entire community cut off, firefighters huddled on the side of a mountain after water swept their truck away, and rescue helicopters grounded. This was the scene facing authorities Thursday in Boulder County, Colo., in the wake of what Sheriff Joe Pelle called a "devastating storm" that dumped more than half a foot of rain on the region during a 19-hour period. Widespread flash flooding washed out roads, pushed dams to their limits and beyond and killed at least three people along Colorado's Rocky Mountain range, from Boulder south to Colorado Springs. Lyons, a small town of 2,000 near the foothills of the Rocky Mountains, was cut off by what city officials described as a "500-year" flood (something has a 0.2 chance of occurring in any given year). They took to Facebook to urge residents to prepare for up to three days on their own.