Creating an oasis in a Southern 'food desert'
Many low-income Americans lack easy access to fresh, healthy food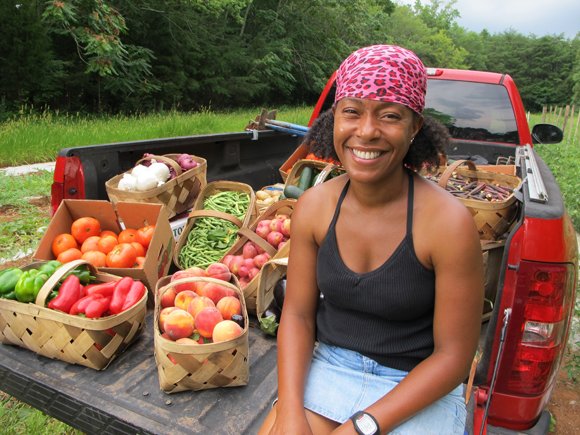 For more than a decade, Robin Emmons felt helpless as her older brother lived on the streets, eating out of garbage cans.
She tried repeatedly to get him help for his mental illness, but authorities told her there was nothing they could do.
After he was arrested in 2008 for damaging someone's car during a schizophrenic outburst, she was finally able to become his legal guardian and get him into a halfway house with psychiatric services.
But as she watched his mental health improve, she noticed his physical health getting worse.
"I learned that he was becoming borderline diabetic," she said. "He wasn't like that even when he was homeless."
She investigated and found out that the nonprofit facility was mainly feeding him packaged and canned foods because it couldn't afford fresh fruits and vegetables.
"I had a small garden, so I thought, 'Well, I'll just put in some extra rows,' " Emmons said. "I began making weekly deliveries of whatever was coming up."
She soon realized, however, that the problem extended well beyond her brother's transitional home. While farmers markets were springing up across the city, she noticed that low-income and working-class neighborhoods had few grocery stores or places to buy fresh produce.
"If you don't live in an affluent part of the city ... your easiest options are the dollar menu or the convenience store attached to a gas station," said Emmons, 45.
For residents who lacked transportation, buying healthy food was even more difficult.
"It might be a trek, or they might have to borrow a car or get on a bus," Emmons said. "Often, once they get there, they are paying a very high price for the food."
A recent study from the University of North Carolina at Charlotte confirmed her impressions. It showed that more than 72,000 low-income city residents, many of them minorities, lived in "food deserts" — areas without a supermarket with fresh food nearby. They also faced a greater risk of cardiovascular disease and premature death.
Access to fresh food is an issue for many communities throughout the United States. According to the Department of Agriculture, nearly 10% of the U.S. population lives in low-income areas more than a mile from a supermarket.
Discovering this problem sparked something inside Emmons, who had recently left her corporate job to find more meaningful work.
"I really thought it was an injustice. ... Healthy food is a basic human right," she said. "I decided to rip up my whole backyard and make it all a garden, and it just kind of snowballed from there."
Today, Emmons has 200 volunteers helping her tend 9 acres of crops on three sites. Since 2008, she says, her nonprofit, Sow Much Good, has grown more than 26,000 pounds of fresh produce for underserved communities in Charlotte.
At first, Emmons donated her locally grown, chemical-free fruits and vegetables to churches and food pantries. But she soon started selling them herself in the neighborhoods that need them the most, for what she estimates is about half the price of organic produce sold in stores.