Full metal Ina (my summer vacation)
Bourdain is like "a psychotic version of (Food Network host) Ina Garten"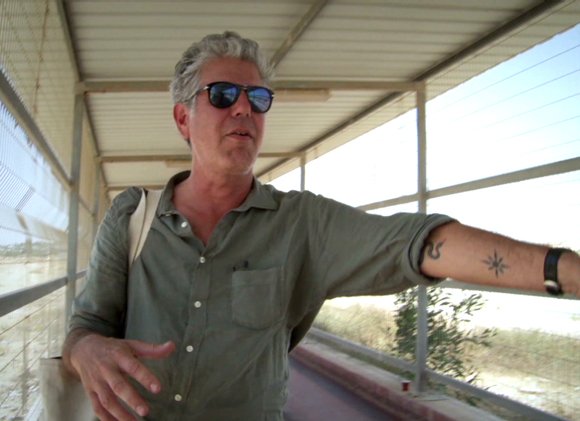 It's that time again. Time to slip out early in the morning and deflate the pool floaties. "Mr. Crockie," the crocodile, looks up at me accusingly as he shrivels on the chaise lounge. Two air mattresses wait for similar treatment behind him. I gather up the big water guns, the water pistols, plastic sharks, two purple rubber octopi, the goggles, plastic treasure chest and shuttle them into the garage.
It's a rental property, so I'm not sure if I'll see them again.
Overcome with sadness, I actually wave goodbye to Mr. Crockie. Later, I'll take my wife and daughter down to the beach for a last look. We'll wait until it's after 5, so there will be parking spots and no crowds, only a few Southampton locals surf casting. Which will, of course, only make it look more beautiful and more sad, that magnificent gray and dark green Atlantic surf breaking in the early evening light that cinematographers call the "golden hour," the smell of salt air, a particularly briny variety unique to the Northeast — accompanied, perhaps, by the vestigial scent of steamer clams opening in a pot somewhere, lobsters dying under pressure, drawn butter, distant deep fryers, corn on the cob. Or will I only imagine that part? The light will have taken on that extra level of clarity that says autumn. As if someone has just slapped on a higher quality lens and made everything crisper, brought everything into focus.
It's the death of summer.
This was my second "real" vacation of the last decade. Many of you will no doubt be thinking, "Uh, wait a minute, a@#hole — your whole life is a vacation!"
Fair enough.
For "A Cooks Tour," then "No Reservations," and now "Parts Unknown," I've been in near constant motion for most of the past 13 years. I go to some pretty cool, pretty interesting places. This year, I went to Israel, Spain, Japan, South Africa, Sicily, Denmark — and Detroit.
I go wherever I want.
But since the birth of my daughter, I'd never, until last year, had a real family vacation. By "real family vacation," I mean "normal" — like on TV, like in movies, or like it was when my family would take me "down the shore" in Jersey. A vacation like I was raised to think you were supposed to have — back in the day when home ownership and a week near a beach was not an unrealistic thing for a single-income, middle-class family to hope for. When it seemed the whole neighborhood would load their station wagons with children and comic books, sun screen and cabana wear and head to Barnegat Light or Seaside Heights.
So vacation for me is idealized, admittedly over-romanticized, total immersion into fatherhood, into the suburban/vacation dream, backyard barbecues, entertaining at home — what some troubled observers have referred to as my "going Full Ina." (As in Ina Garten, Food Network's "Barefoot Contessa.")
After years on the margins — followed by years traveling — now that I'm finally an actual Dad, and finally able to actually take some time off, I admit, I do, occasionally, go overboard with the enthusiasm.