Arsenio Hall returns to late night TV
"Arsenio" premieres tonight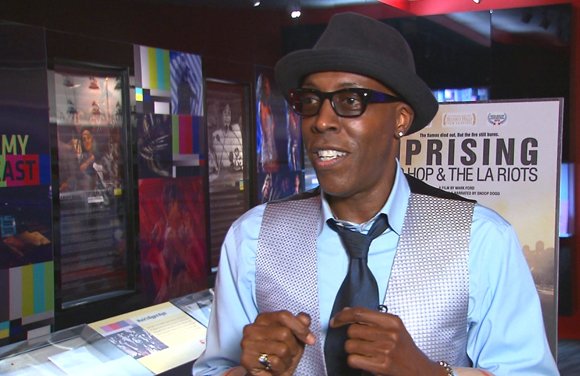 CNN: Who's on your wish list for guests?
Hall: First of all, it's been very complicated booking the first show because I had to decide what I wanted it to be. On that show, I just want a fun return, a party. I just want laughter. No clips, no agendas, just friends and fun.
And then the second night on, I'll start to decide whether I need to talk to Chris Brown and whether I can have that kind of interview. One of my dream guests, one of my dream shows, I don't have to do this, it's been done. When I was home, it was these kinds of things that drove me crazy and made me tell my son, is it time for daddy to go back to work yet, every week?
I was watching Letterman, and he took his whole show on the roof of the Ed Sullivan Theater with Eminem and Jay-Z. Is that a show? Lord have mercy, that's the kind of TV I like.
CNN: Will President Obama be stopping by?
Hall: I don't want to be arrogant, so I'll give you the right answer. I will invite him, but he's done a lot in late night. I gotta get real creative to figure out what to do. He's slow-jammed the news, his wife's done the 'Dougie.' Maybe I'll go back to basics, maybe I just do a straight interview. But the bottom line, yeah, he'll be invited.
CNN: Any other dream guests?
Hall: I called (Bill Clinton) and I said, don't get nervous, I'm not asking a favor from you. But would your wife come out with a saxophone? That would be a move. If I walk out and then say, ooh one minute, grab a hand, and it's Hillary with a saxophone, it's on. Because that's also a special statement if she don't say nothing ... You know Hillary ain't gonna walk out with no saxophone. She might, but I said Bill Clinton wouldn't put on my sunglasses and play an Elvis tune and wear my tie and bring his wife and let her join him, and he said yes to all of that. So sometimes I've learned, ask.
CNN: On your old show, you weren't afraid to tear up the script and get serious when the news of the day was serious — for instance, the night the 1992 L.A. riots broke out. Will that be the case on the new show?
Hall: I'm a stand-up comic doing a late-night talk show. But what I like to do in moments like that is bring in a person like Stevie Wonder as the musical guest, and you let Stevie do a number, but you know when we put Stevie on the couch, he'll give us a respectable response to that kind of situation ... I'm sure people, they want to be put to bed with a smile, but they also want me to touch on things that are going on. I'm not bright enough to handle it but there are plenty of guests who can.