Get ready for some football!
Golden League roundup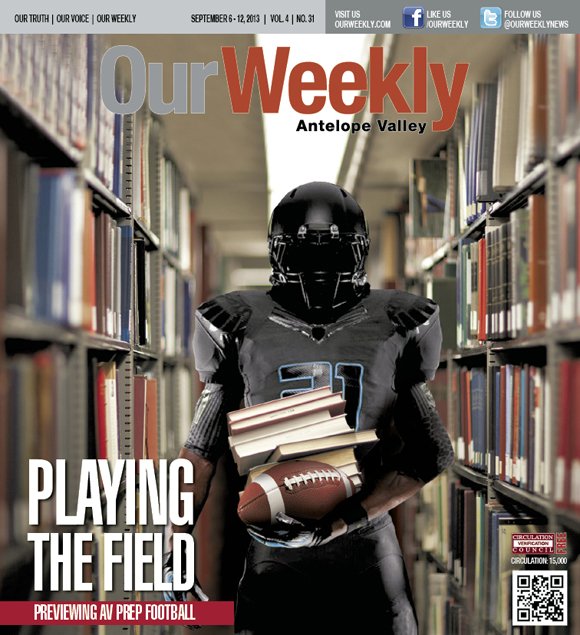 Highland High lost its opener last week against Oak Hills, 44-22, and is coming off a 6-5 season. The team returns with the Golden League's leading wide receiver in senior Jamire Jordan, who has committed to San Jose State.
Jason Nein, an offensive lineman, is another all-Golden League player for Highland; the three-year starter is considered among the league's top hitters.
Quarterback Donte Ross accounted for 28 touchdowns last season (14 passing and 14 rushing), while senior linebacker Brandon Romaine garnered 75 tackles in 2012. Highland High is ranked 230 in the statewide MaxPreps poll and will host Yucaipa High tonight at 7.
Antelope Valley High, 7-4 last year, may have a formidable weapon this season with sophomore running back Ty'Rayl Martin. "Oh, man, he's kicking butt," commented AV High Coach Ron Wilson about Martin.
Andrew Alegria, a defensive back, had an amazing 115 tackles in 11 games for AV last year; while running back Cameron French played quarterback last year but will switch back to his natural spot this season.
Defensive back Tracy Williams, a senior, had four interceptions last season and will be looked upon again to anchor the secondary.
Ron Wilson begins his first season as head coach at AV and is joined by former UCLA running back (and AV High alum) Jermaine Lewis as his offensive coordinator. Antelope Valley opens the season at home tonight against Boron High. Kickoff is at 7 p.m.
Knight High School, 4-6 last year, has one of the league's biggest offensive lines, including two 300-pound-plus returning starters. The team is led by senior running back Bobby Franklin whom Coach Corey Guilfoos believes is primed for a 1,000-yard season. "We are a very inexperienced team that is searching for its identity," Guilfoos said. "We have been challenged early with changes in the athletic department, but are fighting through the obstacles." Knight High is counting on Rider Long, a 6-4, 315-pound defensive tackle, as well as defensive standout Kalem Williams who has impressed the coaching staff when defending the run and pass. Defensive end Chandler Jones has been described by Guilfoos as "very disciplined" with terrific speed and impressive leadership abilities. Other Knight players to watch this season are senior lineman Marcus Robinson, and senior placekicker Jesus Salinas, a first-year soccer convert. Senior linebacker David Thomas had 75 tackles last year. Knight hosts Oak Hills (Hesperia) tonight at 7.
Eastside High School, 5-5 in 2012, features standout wide receiver/defensive back Airistica Gilliam. Coach Richard Lear is expecting a "breakout season" for Gilliam and notes that his program has "... the talent on both sides to be competitive." MaxPreps ranks Eastside 452 statewide. Eastside defeated Granite Hills in its opener last week, 40-18, and will travel to the South Bay tonight to play Leuzinger. Kickoff will be at 7 p.m.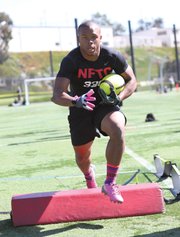 Rounding out the Golden League are Lancaster and Littlerock high schools which each had a disappointing 2012. Lancaster High does feature running back Angel Morgan, a senior who is among the league's best running backs.