Seriously? Boehner scores a zero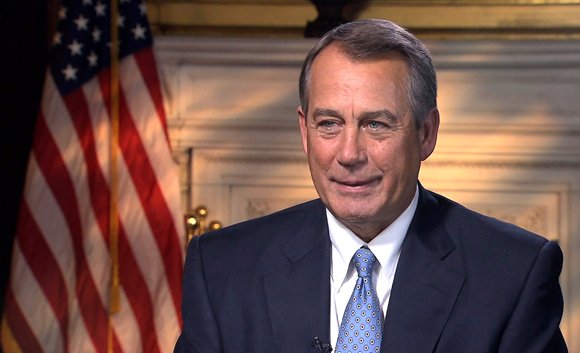 This week we have all been reminded of the 1963 March for Jobs and Freedom on the mall in Washington. The post-World War II era saw several recessions—in 1948, 1953, 1957 and 1960. It seemed the government's promise in the Employment Act of 1946 to keep unemployment down was hollow. Short bursts of full-employment appeared to be the outcome of war time fervor; not a real goal of policies.
Boehner's actions remind us today, that there are those who oppose full employment, or at least do not see it as a real policy goal. He wants Americans to believe he is preoccupied with debt and government spending; not believable concerns given his deafening silence when George W. Bush's tax cuts for the rich and reckless wars drove up government spending and turned surpluses into soaring government debt.
No, there will be no one else to blame except Boehner, if the fragile economy continues to stall with inadequate job growth and stagnant wages. He is not leading a charge with an infrastructure program to rebuild America's falling roads or bridges and get Americans back to work. He is not leading a charge to get the money lost because of local revenue declines caused by continued high unemployment and low family incomes, back to our local school systems so we can hire back the teachers needed for our children's classrooms. He is not leading a charge to get the wages for the jobs the economy is creating up to something decent; raising the minimum wage so Americans can help support their families. Those are the programs the American people expect Congress to be working on.
The current string of months with positive job growth has now reached 34 months. The longest string of consecutive months with job gains since 1939 is 48 months. The second longest string is 45. So, there is a real chance we are running into the end of this engine of growth, which has been modest in its performance. It may stop before we regain all the jobs lost since the end of 2007. And, that would be very bad news for the economy.
As in 1963, there is a real urgency now. We must act quickly to get millions of Americans back to work, and the income of those working up so they can ride the waves of the economy.
With no time to waste, Boehner is scoring a zero. The same score his side needs to get in votes in 2014.
Follow Spriggs on Twitter: @WSpriggs.
DISCLAIMER: The beliefs and viewpoints expressed in opinion pieces, letters to the editor, by columnists and/or contributing writers are not necessarily those of OurWeekly.
William Spriggs | Trice Edney Columnist