Eight years post-Katrina: New Orleans second among booming U.S. cities
African American recovery uneven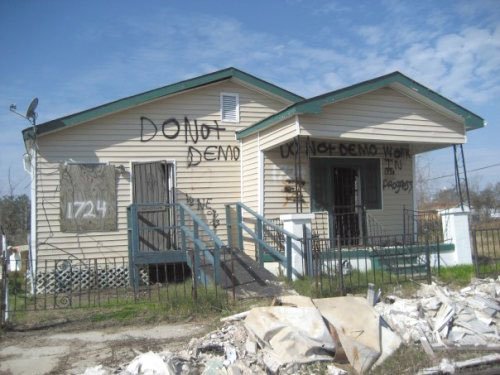 • Nearly half of the African American men in the city are not working, according to the GNOCDC.
• Median earnings for full-time male African American New Orleans workers are going down and are now at $31,018; for White male workers they are going up and are now at $60,075. Whites have experienced an 8 percent increase in middle and upper income households while African Americans have suffered a 4 percent decline.
• Jobs continue to shift out from New Orleans to suburbs. In 2004, New Orleans provided 42 percent of metro or 247,000 jobs, now that number has dropped to 173,000 and the percentage has dropped to 34 percent.
• African American households in the metro New Orleans area earned 50 percent less than White households, compared to the national percentage of 40 percent.
• Only 5 percent of Black households were in the top income class (over $102,000) while 29 percent of White households were.
• While the percentage of minority-owned businesses grew, these businesses continue to receive a below average 2 percent of all receipts.
• The last of the five big traditional public housing complexes was ordered demolished in May. About a third of the 5,000-plus displaced residents have found other public housing according to National Public Radio.
• One third of households in New Orleans earn less than $20,000 annually. This lowest income group makes up 44 percent of the African Americans in the city and 18 percent of the White population.
• Life expectancy varies as much as 25 years inside of New Orleans, according to analysis by the Joint Center for Political and Economic Studies. From a high of 80 years life expectancy in zip code 70124 (Lakeview and Lakeshore which is 93 percent White) to a low of 54.5 in 70112 (Tulane, Gravier, Iberville, Treme which is 87 percent Black and has six times the poverty rate of 70124), social and economic factors deeply impact health. Overall, life expectancy in New Orleans area parishes is one to six years lower than the rest of the United States.
• Jail incarceration rates in New Orleans are four times higher than the national average at 912 per 100,000 reports the GNOCDC. The national rate is 236 per 100,000. This rate went up and down since Katrina and is now just about where it was when Katrina hit. About 84 percent of those incarcerated in New Orleans are African Americans. The average length of time spent waiting for trial is 69 days for African Americans and 38 days for Whites. Crime in New Orleans and in the metro area surrounding the city is down from pre-Katrina levels but still remains significantly higher than national rates.
In a radio interview with Jessica Desvarieux of The Real News Network, BBC Investigative Reporter Greg Palast offered this data:
• Lower Ninth Ward, had the highest concentration of African American home ownership in America until Katrina.
• Half of the African American population in New Orleans is gone, dispersed. They don't have the money or the ability to get back. They don't have their homes back. They don't have the ability to get back.
• So, basically, the Black population was cleansed out of the city and off the voter rolls.
Other facts to note:
• In 2000, there were about 323,000 Blacks in New Orleans compared with about 206,870 in 2010, making up about 60 percent of the city.
"Who recovered depended very much on race and class," said Lance Hill, the head of the Southern Institute for Education and Research, a race relations research center based at Tulane University. "We have forgotten that there are over 100,000 African Americans who remain displaced."
• William Rouselle, a political consultant, said the city's recovery has been uneven with Black neighborhoods like eastern New Orleans, Gentilly and the Lower 9th Ward getting less attention. He said many of the Blacks who haven't returned lived in public housing, most of which were razed after Katrina and are in varying stages of being rebuilt.
David T. Baker | Trice Edney Newswire