Russia skeptical on Syria chemical weapon claims, but won't rule out strike
Iranian official says, 'We will support Syria to the end"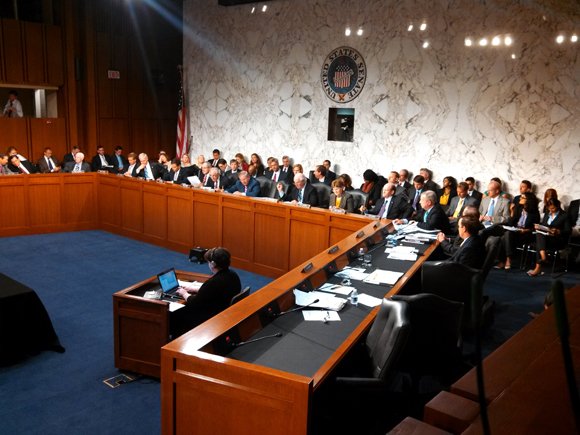 Echoing top U.S. officials, French leaders made the case to lawmakers in Paris that they should back a military strike to send a clear message to al-Assad.
"Not to react would be to put peace and security of the entire region in danger, but also beyond that, our own security," French Prime Minister Jean-Marc Ayrault told a combined session of the Senate and National Assembly.
The message such inaction would send to countries with chemical and nuclear weapons would be clear and dangerous, he said: "You can continue possessing these weapons with impunity."
A similar debate continues to play out in Washington, where the Senate Foreign Relations Committee voted 10 to 7 for a resolution backed by President Barack Obama to authorize a targeted U.S. military response in Syria. That decision sends the measure to the full chamber for a vote next week.
Secretary of State John Kerry was busy again Wednesday making the Obama administration's case for action — this time to members of the House Foreign Affairs Committee.
Kerry said some U.S. allies in the Middle East "have said that, if the United States is prepared to do the whole thing, ... they will carry that cost." The top U.S. diplomat also stated — as he has previously — that a military' strike would be focused on addressing the chemical weapons threat, and that it would be effective.
"We have absolute confidence that what our military undertakes to do, if it is ordered to do so, will degrade the capacity of Assad to use his weapons and serve as a very strong deterrent," Kerry said.
Yet as was the case a day before with the Senate Foreign Relations Committee, not everyone was convinced.
Rep. Michael McCaul, a Texas Republican, claimed most members of the Syrian opposition are "radical extremists," saying that every time he asks U.S. officials about them, "the answers get worse and worse."
Kerry countered that about 15% of the rebel fighters are "bad guys" who fare fighting each other. "There's a general belief that a real moderate opposition exists" he added, saying aid in being carefully funneled to this faction which is "only getting stronger."
Still, even within the Obama administration, there are questions as to how much the rebel movement can be trusted.
"We do not see the clear division between moderates and extremists that some have suggested," a U.S. official told CNN, adding that "all these different elements are mixed in."
Iranian: 'We will support Syria to the end'
Obama said last year that the use of chemical weapons in Syria's civil war would cross a "red line" for U.S. intervention. International agreements ban the use of chemical weapons, and many Western leaders worry that allowing their use to go unchecked in Syria could weaken that prohibition.
"As much as we're criticized, when bad stuff happens around the world the first question is, 'What is the U.S. going to do about it?'" Obama told reporters Wednesday in Stockholm, Sweden, after meeting with Swedish Prime Minister Fredrik Reinfeldt.