Russia skeptical on Syria chemical weapon claims, but won't rule out strike
Iranian official says, 'We will support Syria to the end"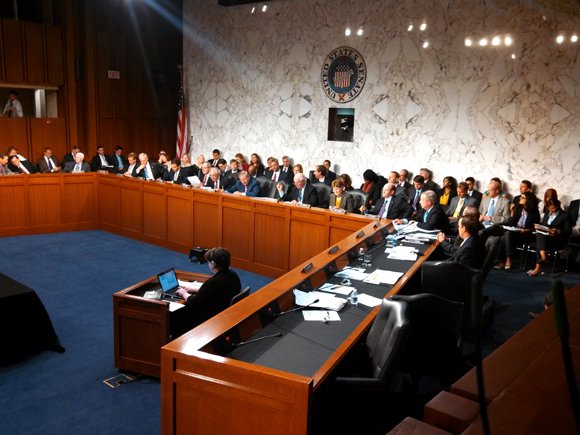 Russia sent mixed signals Wednesday on chemical weapons in Syria — with its foreign ministry pinning the blame for one such attack on a rebel group hours after its president refused to close the door on a U.N.-approved strike against Syria's government.
As one of Syria's chief allies — and one with veto power on the U.N. Security Council — Moscow time and again has put up roadblocks to international efforts to punish Syrian President Bashar al-Assad's government.
Such calls intensified following an alleged chemical weapons attack last month outside Damascus that, the U.S. government estimates, left upward of 1,400 people dead.
French and U.S. legislators spent Wednesday debating the merits of authorizing military strikes in Syria.
Russia has challenged assessments from officials in those nations and Great Britain that Syrian forces have used chemical weapons since the bloody civil war broke out in 2011.
On Wednesday, Russian President Vladimir Putin said he "doesn't exclude" backing a U.N. resolution for military action, though only if there is irrefutable proof Syria's government is behind the latest attack.
Samples taken by U.N. inspectors at that site were due at the world body's laboratories this week and will be tested "strictly according to internationally recognized standards," U.N. Secretary-General Ban Ki-moon said.
Putin also said, in the same interview with Russia's state Channel 1 television and The Associated Press, that it would be "absurd" for al-Assad's forces to use chemical weapons when they have the upper hand over rebel fighters.
The Syrian government not only has denied waging chemical weapon attacks, it has accused opposition fighters — whom it routinely refers to as "terrorists" — of using them.
Russia's foreign ministry appeared to echo that view, in at least one instance, on Wednesday. Referencing a March 19 attack (not the one on August 21) in an Aleppo suburb, the ministry said its experts — in an analysis requested by Syrian authorities — concluded that 26 civilian and Syrian military deaths from the spring attack can be traced to a "homemade" device not used by the Syrian army.
The projectile, the Russian ministry stated, was similar to those used in northern Syria by Bashaar Al-Nasr, an Islamist brigade that's part of the opposition Syria Liberation Front. In addition to hexogen, the Russian experts found the nerve agent sarin and another such chemical in its shell and soil samples.
How this revelation affects the dynamics in Syria, and internationally, is uncertain.
U.S. and some allied officials, for example, have expressed reluctance to accept such claims in the past. Moreover, they have indicated their willingness to wage targeted strikes in retaliation to the more recent strike, even without sweeping global support.
At the least, the competing claims suggest that world leaders — as has been true in the two years since the conflict began, leading to more than 100,000 deaths according to a U.N. estimate — aren't close to an agreement about who's to blame for the bloodshed and what to do about it.
French, U.S. lawmakers debate action