Syrian crisis: Keep up with key developments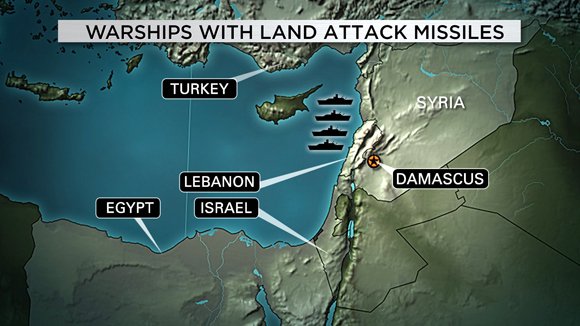 The world is waiting to see whether the United States will strike against the Syrian regime — and whether anyone will join in.
U.S. President Barack Obama said there's no doubt Syria used chemical weapons on its own civilians on August 21, and he wants to launch attacks, but he first wants to get Congress' approval after lawmakers come back from recess next week.
Here are the latest developments:
LATEST
The Syrian regime's reported use of chemical weapons is a threat to U.S. security interests in part because it would embolden other regimes, like North Korea, to use their stockpiles, and encourage other governments to acquire them, U.S. Defense Secretary Chuck Hagel told the Senate Foreign Relations Committee on Tuesday afternoon. The risk of chemical weapons proliferation in the Middle East specifically "poses a direct threat to our friends and partners, and to U.S. personnel in the region," he said. Hagel made the comments in support of a possible U.S. military strike against the Syrian regime.
The U.S. Defense Department's plans for military strikes against the Syrian regime is tailored to degrade Syria's ability to carry out chemical weapons attacks, and deter it from further chemical weapons use — not to resolve the Syrian civil war, Hagel told the Senate Foreign Relations Committee.
U.S. Secretary of State John Kerry said Tuesday that if Obama orders a military strike on Syria, such an action "will make us more secure," including by making it difficult for Syria's leadership to use chemical weapons. "The absence of taking the actions will, in fact, be far more threatening and dangerous and ... ultimately cost lives," Kerry said on Capitol Hill.
Joint Chiefs Chairman Gen. Martin Dempsey said Tuesday that he's been charged with giving Obama military options "to deter" Syria's government from using chemical weapons — or, in his words, to "change the regime's calculations."
Kerry said Tuesday that not striking Syria could, in the long run, cost the United States allies and make things more challenging as it deals with crises worldwide. "It would make our life very, very difficult with respect to North Korea and Iran," he said, singling out two of Washington's adversaries.
U.S. EFFORTS
Opening a hearing on Obama's call for military strikes against the Syrian regime, the chairman of the Senate Foreign Relations Committee said Tuesday that he supports the president's decision. "Yes, there are risks to action, but the consequences of inaction are greater and graver still: further humanitarian disaster in Syria; regional instability; the loss of American credibility around the world; an emboldened Iran and North Korea; and the disintegration of international law," U.S. Sen. Robert Menendez, D-New Jersey, said.
Menendez cautioned against inaction in the face of a possible U.N. Security Council veto, in an apparent reference to Russia and China. "Are we willing to watch a slaughter just because the patrons of that slaughter are willing to use their veto at the United Nations to allow it to happen so their beneficiary can stay in power?" he asked.
Evidence of a chemical weapons attack in Syria proves "beyond any reasonable doubt" that President Bashar al-Assad's government was behind it, Secretary Kerry told the Senate Foreign Relations Committee. He acknowledged concerns over faulty intelligence on weapons of mass destruction out of Iraq ahead of the U.S. invasion in 2003, but reassured committee members that the U.S. "intelligence community has scrubbed and re-scrubbed the evidence" out of Syria. "We have physical evidence of where the rockets came from and when. Not one rocket landed in regime-controlled territory. Not one. All of them landed in opposition-controlled or contested territory. We have a map — physical evidence — showing every geographical point of impact, and that is concrete," he said.
Kerry said that the use of chemical weapons in Syria is not about crossing Obama's so-called red line, but that "this debate is about the world's red line — it's about humanity's red line — and it's a line that anyone with a conscience should draw."
House Speaker John Boehner said he supports President Obama's call for military action in Syria. "Only the United States has the capability and the capacity to stop Assad and warn others around the world that this type of behavior is not going to be tolerated," he told reporters Tuesday.
Boehner says it's now "the president's responsibility to make his case to the American people and their elected representatives," his spokesman said.
Senate Majority Leader Harry Reid is confident that senators will authorize military strikes in Syria, a Democratic source familiar with Reid's thinking told CNN. The source says authorization is likely to need 60 votes to overcome a filibuster and Reid thinks the votes are there.
U.S. Rep. Alan Grayson, a Florida Democrat, deplored the idea of military action and said "we are not the world's policemen." "A strike is not going to accomplish anything useful," he told CNN on Tuesday. "It is not our problem. It is very expensive and it's dangerous."
House Majority Leader Eric Cantor says he'll vote to provide Obama "the option to use military force in Syria." "America has a compelling national security interest to prevent and respond to the use of weapons of mass destruction," the Virginia Republican said in a statement.
Obama, before meeting Tuesday morning with members of Congress about possible military intervention in Syria, said he believes the U.S. military plan is appropriate, proportional, limited, and "does not involve boots on the ground." "This is not Iraq, and this is not Afghanistan," he said.
Kerry, Defense Secretary Chuck Hagel and Gen. Martin Dempsey, chairman of the Joint Chiefs of Staff, are scheduled to appear before the Senate Foreign Relations Committee Tuesday. A senior State Department official said Kerry will argue that failure to act on Syria "unravels the deterrent impact of the international norm against chemical weapons use."
The United States must take action against Syria after its alleged chemical weapons use or risk losing credibility in the world, U.S. Sen. John McCain said on CNN's "New Day" Tuesday morning.
The Obama administration will conduct classified briefings regarding Syria for Congress almost every day this week, CNN's Dana Bash has learned.
Kerry will testify before congressional committees Wednesday, congressional sources said. He will testify to the House Foreign Affairs Committee, while he will join Director of National Intelligence James Clapper in a classified briefing for the Senate Foreign Relations Committee.