LAUSD board extends Deasy's contract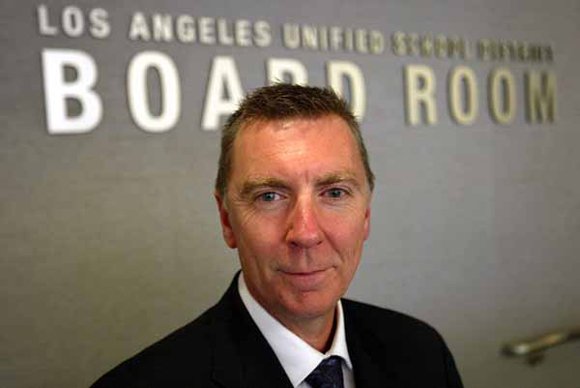 Courtni Pugh, executive director of Service Employees International Union Local 99, which represents LAUSD cafeteria workers, custodians, bus drivers and teachers assistants, said Deasy has always been supportive of the district's support staff.
"We have had hard budget discussions and we have often disagreed with his decisions," Pugh said. "But we have always appreciated his openness, his value of classified employees and his commitment to put our children first. These leadership qualities are necessary to move LAUSD, and our communities, forward."
Deasy became superintendent in April 2011, succeeding retiring Superintendent Ramon Cortines. Deasy joined the district in August 2010 as Cortines' chief deputy.
Deasy previously served as deputy director of education for the Bill & Melinda Gates Foundation, superintendent of the Santa Monica-Malibu Unified School District and Prince George's County Schools in Maryland.
During his tenure, he championed a revamping of the teacher-evaluation system to include the use of students' standardized test scores. He also altered the seniority system to limit the effect of job cuts at schools with large numbers of less-experienced instructors, who are generally the first to be laid off.
His actions have frequently made him a target of criticism by the powerful teachers' union, United Teachers Los Angeles.
UTLA President Warren Fletcher said earlier that Deasy's leadership "was not taking the district in the right direction."
"Deasy has ignored the concerns of the district's teachers and health and human services professionals for a very long time," Fletcher said. "UTLA is hopeful that the school board and the entire LAUSD community will take this opportunity to refocus the district back to its most basic mission — providing every student with a well-rounded education."
Deasy has also found himself occasionally at odds with members of the board of education, including Vladovic. Deasy has also taken heat in recent weeks over the troubled rollout of a program to provide iPads to students and teachers.
Coincidentally, board member Tamar Galatzan formally introduced a resolution today calling for the public censure of Vladovic, who has been the target of allegations of intimidation and harassment of district employees. The resolution calls on Vladovic to publicly "take responsibility for his actions and commit to abiding by district policies and behaving in a professional manner."
Vladovic has denied harassing or bullying anyone, but he acknowledged violating what he called the board's "civility code," the Daily News reported. He also said he has sought treatment for anger issues, the paper reported.
The board is expected to vote on the resolution next month.
Fred Shuster| City News Service