LAUSD board extends Deasy's contract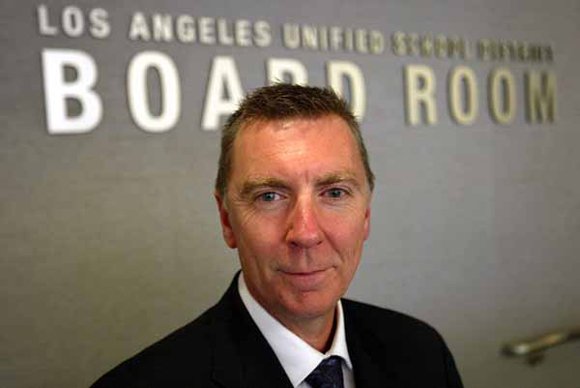 LOS ANGELES, Calif. — Ending days of speculation that John Deasy was prepared to step down as superintendent of the nation's second-largest school district, the Los Angeles Unified School District board today gave Deasy a "satisfactory" job evaluation and extended his contract for another year.
The announcement came after a nearly five-hour closed-door meeting between board members and Deasy. An attorney for the district said Deasy's contract, which was scheduled to end in June 2015, was extended to June 30, 2016.
The board's decision sparked some gasps from Deasy opponents in the audience, including one who asked loudly if there was any way to contest the action. Deasy simply thanked the board for its support.
"I thank the board very much for a good and robust evaluation," he said. "I particularly thank you for a really excellent and honest conversation on building the (rapport) to work together so that we can continue to lift youth out of poverty. I'm very proud, as you all were, of what we have done for students and what we're going to continue to do for students, and I look forward to us as a team continuing to advocate on behalf of the students of this amazing city, and I thank each of my board members very much and look forward to that."
Board President Richard Vladovic, who has been among Deasy's detractors at times, offered little insight into the board's decision, saying the closed-door discussion was a personnel matter.
"This has been a journey for all of us, and we're focused on the children," he said. "We are moving forward."
The decision was a surprise reversal of fortune for Deasy, who appeared over the last several days to be preparing to move out of the superintendent's office. The Los Angeles Times reported last Thursday that Deasy was likely to step down in February. Deasy did not comment directly on the report, but insisted he had not submitted a letter of resignation.
While the board was meeting behind closed doors, a senior district official circulated copies of a proposed settlement agreement that had been drafted by an attorney for the district. That agreement, which Deasy apparently presented to Vladovic at a lunch meeting late last week, called for him to step down Feb. 1, but then remain with the district as a consultant through the end of contract on June 30, 2015.
That deal would have allowed him to keep earning his $330,000 salary.
Before the board went into closed session, it heard about an hour of public testimony, most of which was favorable toward Deasy. Some negative comments were made, including a lengthy statement from a former substitute teacher who said Deasy once came into her classroom and berated her lesson plan in front of her students.
Vladovic noted at the beginning of the meeting that he had spoken to Deasy probably "at least 10 times in the last four or five days."
"We're all working very hard to do what's best for children and we're doing what's in the best interests of this district," he said. "I look forward to a very strong conversation, a very fair one. ... The most important thing is we need to come together as eight individuals that literally govern this district and sit down as with any family when issues arise. We need to talk in a straight, very frank way, but very professional, and that's what we intend to do."