Weight-loss surgery seems to beat diet and exercise
Study finds surgery more effective at least two years out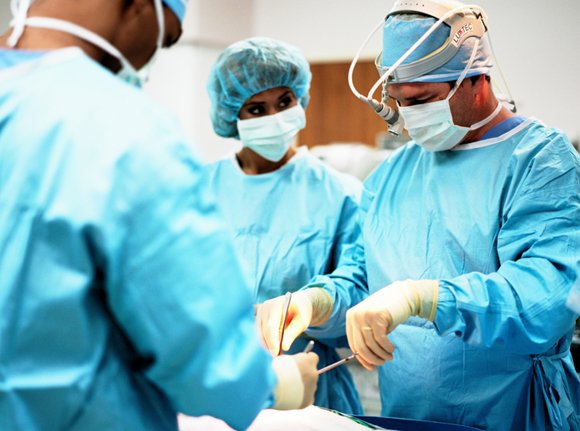 Another expert said weight-loss surgery should be happening more often.
"Bariatric surgery is underutilized. If we were talking about any other treatment with such a striking effect on diabetes, it would be offered to patients sooner," said Dr. Mitchell Roslin, chief of obesity surgery at Lenox Hill Hospital in New York City.
Of course, like any surgery, weight-loss surgeries don't come without risk. The most common complications reported in the current analysis were iron deficiency anemia and the need for re-operation. The surgery is also expensive. The U.S. National Institute of Diabetes and Digestive and Kidney Diseases estimates that weight-loss surgery averages as much as $25,000.
Roslin and Zonszein both said that people undergoing weight-loss surgery need to be carefully chosen. Current recommendations recommend the surgery for anyone with a body mass index (BMI) above 40, or a BMI of 35 or higher if they have other conditions related to obesity, such as type 2 diabetes or high blood pressure. BMI is a measurement based on height and weight.
But, both experts felt that more people should be included in those recommendations. Zonszein said people with BMIs as low as 30, if they had evidence of other metabolic abnormalities, should be counseled on the surgery. Roslin also said that if people with type 2 diabetes can't maintain control on oral medications that they should be offered a surgical option.
Roslin said that people with type 2 diabetes should try to lose weight and exercise more first. "Give yourself a chance to make lifestyle changes. But, it's very hard to lose 5 percent of your body weight. If you don't think you'll be able to do it, then you owe it to yourself to learn about surgical options," he suggested.
"There are real risks with surgery that shouldn't be underestimated, but there are real risks from diabetes, too," Roslin noted. "Let's say we were talking about colon cancer instead of diabetes, and I said, 'There's a treatment that could reduce your risk by 22 times, but it's invasive, would you consider it?'"