Nov. 5 Palmdale vote is a go
Election results subject to court review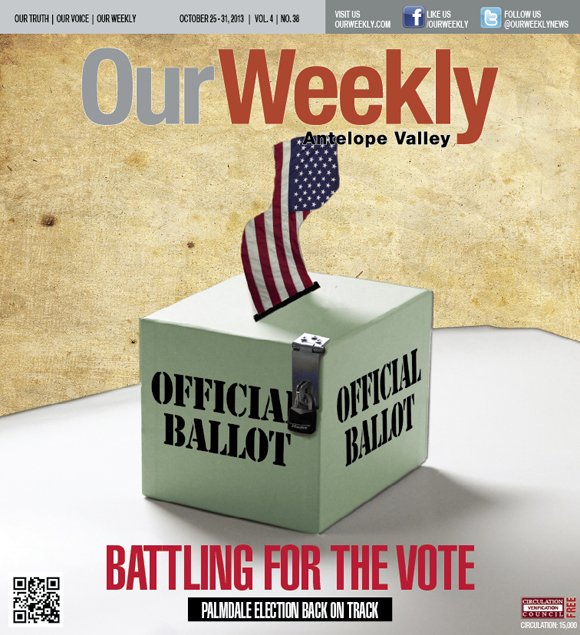 On Nov. 5, Ledford will defend his 22-year term against Mitcheal Toles of the Green Party; Maggie Campbell, a former write-in candidate for city council; and Lynn Marie Minidis, a local businesswoman.
Those running for city council include Frederick C. Thompson, an educator and commissioner whom Ledford has campaigned for; Richard Loa, a lawyer and former councilmember, and Daniel Duplechan, a local community activist. Campbell, Thompson and Duplechan are African American, while Loa is Latino.
The Antelope Valley Hispanic Chamber of Commerce believes having a Latino councilmember in Palmdale can serve as a positive influence or "role model" for immigrant residents, particularly the many youth who are naturalized citizens but lack many ethnic heroes within the professional class. "One benefit of having a Latino on the city council is that this person can become a sort of beacon and an example to others that anything is possible, if you work hard and commit to a vision of leadership," said Barcelona of the Hispanic chamber.
The candidates offer varying backgrounds and political ideals. Toles' Green Party endorsement means advocating criminal justice reform, rent control and a move to utilize more renewable energy sources.
Campbell, who sought a council seat as a write-in candidate in 2004, is a pastor and a veteran volunteer for several mayoral, senatorial and congressional campaigns. She's focusing on the economic vitality of the region.
Minidis, vice president and chief financial officer of RedBrick Pizza restaurants, is known locally for her long-time volunteer work with the Antelope Valley Assistance League. Job creation and "restoring Palmdale's economic prosperity" are among her campaign pledges.
Loa served on the Palmdale City Council from 2001-2005 and is a former assistant director of the California Housing and Community Development Department.
Thompson, former dean of Antelope Valley College and its current foundation director, served for seven years on the Palmdale Planning Commission.
Duplechan, a local minister, is campaigning for affordable housing, more support of law enforcement, and to attract more business entities into the city.
A debate on Oct. 3 revealed that practically none of the candidates believed the election controversy deserved such publicity. "It is just a deprivation of the voting rights of almost 70,000 people in Palmdale," Loa said. Thompson said it was a "farce" to cancel the election. "I never felt like I was being disenfranchised because of my ethnicity. So this is a bunch of malarkey." Duplechan, equally upset with the delay, explained "[it] takes the energy out of the people."
Their platforms? "Economic development—I think it's a priority," Loa said. "Number-one is the power plant," said Thompson. "We need to bring more jobs to Palmdale," demanded Duplechan.
Another plaintiff in the lawsuit, Emmett Murrell, said the "writing is on the wall" regarding a new look to Palmdale politics. "The ruling can help force implementation of a more fair election system," he said. "In time, we will likely have a Latino councilmember or mayor. I don't care if that's the case ... it's better than what we've got."
Several other cities in California may face lawsuits over the at-large election process. Activists in Modesto, Compton, Anaheim, Escondido and Whittier have gone to court in recent years seeking to have their council members elected by geographic districts. In order for this to happen, a plaintiff simply has to demonstrate that racially polarized voting exists; this is revealed primarily with election results that show despite having predominantly minority voting precincts, minorities are not getting voted into office in those areas.