Nov. 5 Palmdale vote is a go
Election results subject to court review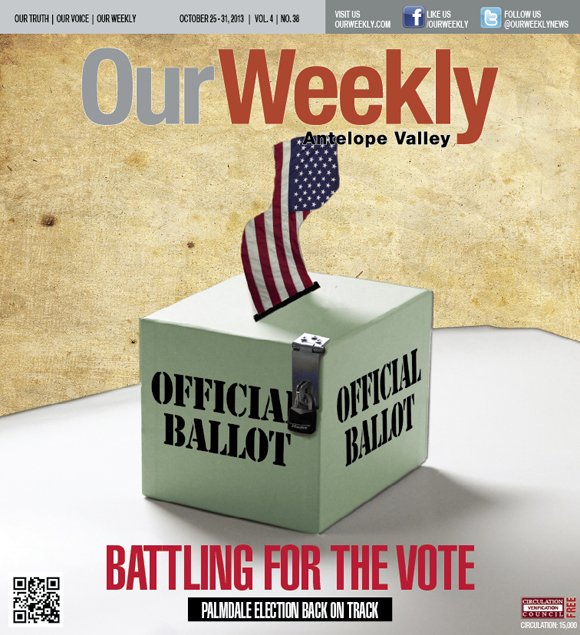 The on-again, off-again Palmdale election will take place on Nov. 5 after the California Court of Appeals granted the go-ahead two weeks ago. The court's ruling stated: "As phrased, the injunction written in the disjunctive, permits the defendant (Palmdale) to hold an at-large election and even count the votes but not to certify the results."
The controversy involves the use of an "at-large" system of electing council members, as opposed to a district-wide method. The at-large system in Palmdale was said to hinder the ability of minorities to win public office; African American and Latino residents comprise about 69 percent of Palmdale's population, but only one Latino has won election to the council since the city's incorporation in 1962, and no Black person has won office.
Superior Court Judge Mark Mooney ruled this summer on an injunction sought by the plaintiff's attorneys (Lancaster Mayor R. Rex Parris and Malibu counsel Kevin Shenkman representing voter Juan Jauregui), that in order to proceed with the Nov. 5 election, another system must be put in place.
Palmdale immediately appealed the ruling, however the Court of Appeals deemed Palmdale's appeal unnecessary.
Now, the election results will be tabulated by the County of Los Angeles in the "... ordinary course of business, after which the city will present the results to the Court of Appeals," said Palmdale assistant city attorney Noel Doran. After the County Recorder counts and verifies the ballots that evening, the results will be reviewed by the Court of Appeals.
Parris and Shenkman made their case of racially polarized voting by producing a regression analysis of all Palmdale mayoral and council election results since 2000. During this period, they found, only one Latino candidate and no African American candidates were elected under the at-large method.
The 2010 Census reported that Palmdale's Latino population was about 54.4 percent, and 14.8 percent African American. Both of these populations are geographically concentrated within the city. Lately, all jurisdictions within the state have been encouraged by the CVRA to review its own election history and, if a violation is found, seek advice of its general counsel.
Ledford released a statement in September saying that California's 11-year-old CVRA has led to a "money grab" by lawyers, although he has yet to comment on why a city with about 70 percent minority population has so few people of color holding office.
"We go after the best and brightest," Ledford told the Los Angeles Times last month. "I can't speak for the message of the candidates or their ability to raise the funds and run." Doran explained that, in the end, the Palmdale election results will be tabulated by the county registrar "in the ordinary course of business," after which the city will present the results to the court for certification.
"We strongly believe that the citizens of Palmdale have a right to vote for every elected official—not just the person from a district created by a Malibu attorney," said Doran in reference to Shenkman. "While the plaintiffs want you to believe that they are promoting the voting rights of some through their plan when, in actuality, they are attempting to reduce every Palmdale citizen's voting power by 80 percent and to do away with their right to directly elect the mayor."