Conrad Murray to be released from jail Monday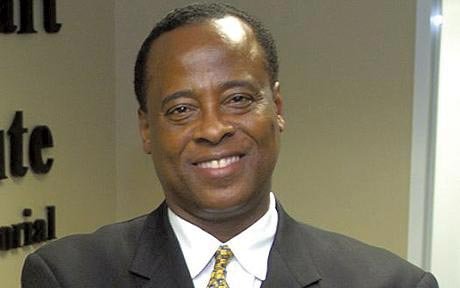 LOS ANGELES, Calif. — Conrad Murray is tentatively scheduled to be released from jail Monday after serving two years of a four-year sentence for administering a fatal dose of the anesthetic propofol to pop superstar Michael Jackson at the singer's rented Holmby Hills estate.
Murray was convicted of involuntary manslaughter for Jackson's June 25, 2009, death at age 50. The singer was in the Southland rehearsing for his never-realized "This Is It" concert series at London's O2 Arena. The coroner's office determined that Jackson died of acute propofol intoxication.
Murray has insisted that he did nothing wrong in his treatment of the singer, with his attorneys arguing during his trial that Jackson himself likely administered the fatal dose when the doctor was out of the room. But prosecutors said propofol should only be administered in a hospital setting with proper monitoring equipment.
Jackson referred to the white-colored propofol as his "milk," and used it to combat insomnia.
Murray, now 60, was sentenced in November 2011 to four years behind bars. He is serving his time at the Men's Central Jail in downtown Los Angeles.
The Los Angeles County Sheriff's Department announced earlier this year that Murray's projected release date was Oct. 28. He will be released after serving roughly two years of a four-year sentence as a result of standard good-behavior credits. News of his pending release prompted some angry comments from Jackson's family.
Steve Whitmore, spokesman for the sheriff's department, said the agency had no comment about Murray's anticipated release. When Murray was sentenced to four years in jail in 2011, Whitmore said the doctor would likely serve about two years behind bars.
Murray's treatment of Jackson was the central focus of the recent trial of a lawsuit filed against "This Is It" concert promoter AEG Live by the singer's mother, Katherine. After hearing months of testimony, a jury decided not to award the Jackson family any damages, finding that while AEG Live hired Murray, the doctor was fully competent to act as Jackson's personal physician.
Some jurors said they believed Murray acted unethically by administering the propofol to Jackson, but AEG Live could not be held liable for those acts.
After the verdict in the civil case, Murray told the "Today" show in an interview from jail that he was "relieved" by the jury's decision.
"I cried because, for once, the world was allowed to hear some of the facts as they pertain to this matter — a lot of facts that have been suppressed, much of which I was denied and my attorneys could not present during my criminal trial," Murray said.
Asked about his plans after his release, Murray said, "I will restart my life and, God willing, I will be a model to show the world that despite adversity, and when bad things happen to good people, they can restart their life and succeed."
Murray's medical license has been suspended, but his appellate attorney, Valerie Wass, has said he hopes to regain his license and resume treating patients.