Bill Sharman, coach who led Lakers to first title, dies at 87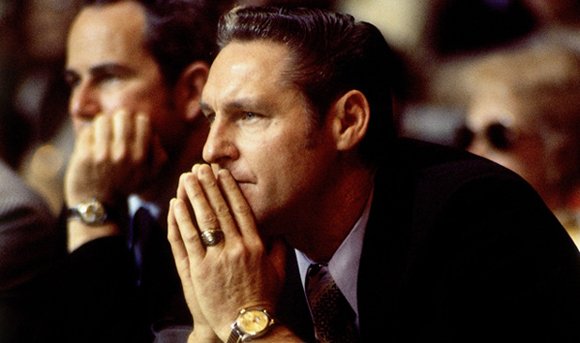 Bill Sharman, who coached the Los Angeles Lakers to the team's first NBA title and later served as the team's general manager and president, died today in Redondo Beach.
His wife, Joyce, told the Los Angeles Times the hall-of-fame player and coach died at his home at age 87. Sharman suffered a stroke last week.
"Today is a sad day for anyone who loves and cares about the Lakers," team President Jeanie Buss said. "As our head coach, Bill led us to our first championship in Los Angeles, and he was an important contributor to the 10 championship teams that followed for the last 34 years, his importance to Dr. (Jerry) Buss and our family, and for the last 42 years to the Lakers organization, cannot be measured in words.
"His knowledge and passion for the game were unsurpassed, and the Lakers and our fans were beneficiaries of that," Buss said. "Despite his greatness as a player, coach and executive, bill was one of the sweetest, nicest and most humble people I've ever known. He was truly one of a kind."
The Texas native and USC graduate won four NBA championships while playing as a guard with the Boston Celtics, alongside famed playmaker Bob Cousy. He was an eight-time NBA all-star, and was named MVP of the All-Star Game in 1955.
He turned to coaching after his playing career ended, and led the Utah Stars to an ABA championship in 1971. That success caught the attention of Lakers owner Jack Kent Cooke, who hired Sharman to coach the Lakers, who had yet to win a title despite multiple trips to the NBA Finals.
In his first season as Lakers coach, the team went 69-13 and won its first championship in 1972. Sharman was named the NBA Coach of the Year.
Sharman coached the team for a total of five seasons, then served as the team's general manager beginning in 1976 and then president in 1982. For the past 23 years, he has been a "special consultant" for the team."
He was inducted into the Basketball Hall of Fame as a player in 1976, and as a coach in 2004, making him one of only three people to be enshrined in both categories. John Wooden and Lenny Wilkins are the others.
"Bill Sharman was a great man, and I loved him dearly," Lakers General Manager Mitch Kupchak said. "From the time I signed with the team as a free agent in 1981 when Bill was general manager, he's been a mentor, a work collaborator and most importantly, a friend. He's meant a great deal to the success of the Lakers and to me personally, and he will be missed terribly."
The great Earvin Magic Johnson tweeted: "Laker Nation: Bill Sharman helped me work harder on my game and made me a better free throw shooter! God bless his beautiful wife & family."