Urban lit is academic
"Pimping Fictions" gives a scholarly overview
Gregg Reese | 10/24/2013, midnight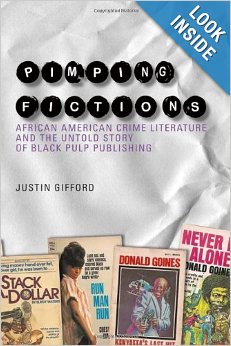 The recognition and exploitation of an untapped market for Black literary tastes among the working class by White publishers Bentley Morriss and Ralph Weinstock was a curious by-product of the Black Consciousness Movement of the 1960s.
Originally entertainment publicists Morriss and Weinstock filled that void with a series of paperback books focusing on the inner city underworld familiar to an urban readership across the country. Sold largely through such points-of-purchase as barbershops and liquor stores, these low-brow, lurid tales have recently been given a leg up the literary food chain with the release of "Pimping Fictions: African American Crime Literature and the Untold Story of Black Pulp Publishing," by Justin Gifford.

Morriss and Weinstock's publishing company, Holloway House, was previously known for turning a profit with erotic paperbacks and adult magazines like Adam Film World. Eventually they earned a reputation as a launch pad for writers of color previously excluded from the legitimate/reputable press, and later on, creation of a highly successful sepia variant of Playboy, slanted towards Black men called "Players."
Holloway is now known for promoting such talents as the late Joe Nazel, author of dozens of tomes including the "Iceman" series, and later an editor for Players magazine and local newspapers such as the L.A. Watts Times, the Sentinel, and the Wave; Donald Goines, who authored the "Kenyatta" urban fiction series along with the novel "Never Die Alone," which became a major motion picture; and perhaps most prominently, Iceberg Slim, who immortalized the ancient profession of facilitating sexual commerce in his 1967 autobiography "Pimp: The Story of My Life."
Just as "street lit" was launched through the initiative of Caucasian businessmen, a White college professor at Reno's University of Nevada has done the first scholarly exploration of this grassroots prose. A professor in the English department, Gifford's appetite for sagas chronicling the desperation of people attempting to survive and prosper in their pursuit of "the Life," was stimulated when he was a grad student at the University of Virginia in 2001, with the work of Chester Himes.
A few years later he attended a Los Angeles auction and purchased several garments from Iceberg Slim's wardrobe from the panderer-turned-raconteur's widow, Diane. Since then, he has collected an assortment of pulp fiction novels and other paraphernalia from bookstores and thrift shops from coast to coast, while promoting awareness of this medium in the curriculum at the University of Nevada.
One intriguing portion of "Pimping Fictions," traces the development of the detective novel with the transformation of metropolitan America from working class White ethnic to enclaves of color. This happened during the Great Migration of Blacks from the south to municipalities in other parts of the country, from the 1940s through to the 1960s.
Gifford uses the work of the quintessential founder of modern American detective fiction, Raymond Chandler, to follow the degeneration of inner city Los Angeles, as its "Negro" population begins to spread outside the parameters of the Central Avenue corridor, which had been traditionally designated for the containment of its darker skinned citizenry, in 1940s "Farewell, My Lovely."