Housing hotline helps homeowners
Workshop set for Nov. 5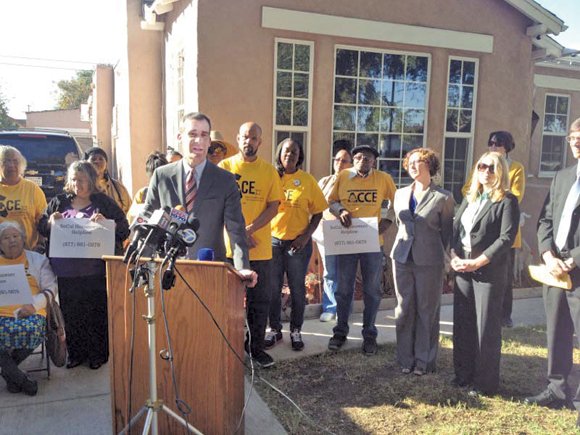 Mayor Eric Garcetti joined a coalition of community legal and housing organizations, including the Alliance of Californians for Community Empowerment (ACCE) to announce a new toll-free hotline offering at-risk homeowners the help needed to address those threatened with or in foreclosure.
The new number was announced at the South Los Angeles of Israel and Charobey Garr, who have had trouble being evaluated for a modification by their bank.
"Los Angeles neighborhoods are still reeling from the foreclosure crisis, and every time somebody loses a home to foreclosure it leaves a hole in the fabric of our community," Garcetti said. "If you can qualify for a loan modification, you shouldn't lose that chance or become a victim of fraud."
"If you owe more than your home is worth or if you are facing foreclosure, don't give up–and you don't need to pay for a loan modification," said ACCE organizer Peggy Mears. "Our coalition of non-profits is ready to provide you with legal assistance, counseling, and support to take the steps toward saving your home and getting a permanent affordable loan modification."
ACCE will hold a clinic Nov. 5 at 6 p.m. where homeowners can obtain one-on-one assistance and advice from an attorney or housing counselor who is part of the California Consumer Justice Coalition.
The California Consumer Justice Coalition includes legal groups Bet Tzedek Legal Services, Public Counsel, Asian Pacific American Legal Center, Legal Aid Foundation of Los Angeles, and the Legal Aid Society of Orange County. Also participating in the press event and assisting homeowners will be East LA Community Corporation (ELACC), Neighborhood Housing Services of the Inland Empire, and the Eviction Defense Network.
Homeowners can call (877) 881-0878 to find out if they qualify for assistance. Among those might be eligible are:
• Those who applied for a loan modification, but the foreclosure is still going ahead. This is called "dual-tracking," and it is supposed to stop.
• If each time you call your lender, you have to talk to a different person, or if you have a name for somebody at the lender but can never get that person on the phone.
• If you were denied a loan modification but were never told why.
• If you have to submit the same paperwork again and again.
• If you don't get proof in writing that your paperwork was received by your lender.
• If you are a U.S. service member on active duty you have special protections.