Debate unfolds after teacher slayings in Nevada, Massachusetts
Both young suspects were African American
Michael Martinez | 10/24/2013, midnight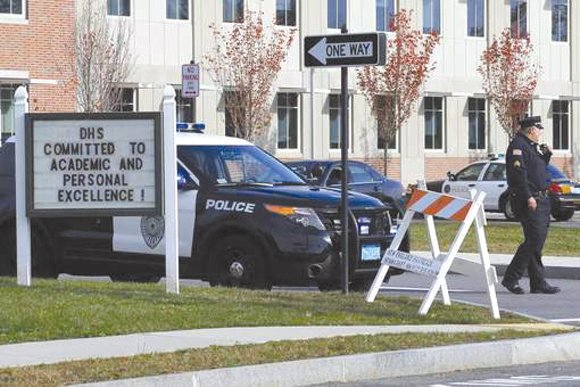 Call it coincidental or a cause for alarm: Two teachers in two states killed days apart, each allegedly by a student.
The nation searches for meaning and answers after police say a 12-year-old boy gunned down a teacher in Sparks, Nev., before killing himself; and a 14-year-old boy was charged with murder in the slaying of a high school teacher in Danvers, Mass.
The robust dialogue in social media and among experts is focusing on safety.
"We expect the national conversation about school safety will be heightened, but the fact remains, most school campuses are still among the safest places students can be," the Nevada State Education Association and the National Education Association said.
"Nevertheless, NEA and NSEA will continue to advocate for stronger measures to ensure the safety of students and school personnel so future tragedies can be avoided," the teacher unions said.
Parental organizations agreed that better school security is needed.
"National PTA is hopeful that this incident will persuade the nation to make meaningful changes to protect all children," the group said about the Nevada shooting. "It is critical that we work together to find the most effective ways to ensure that all students have a safe environment in which to thrive and learn."
But psychologist Jeff Gardere said schools are no longer the safe havens they used to be. And he pointed to a disturbing reality among younger Americans.
"How does this happen with someone so young?" Gardere wondered of the suspects.
"I don't think we should get into the mindset that these sorts of crimes are committed by someone 18 years old and up," he added. "We need to understand that severe emotional issues can happen in someone very young."
How to deal with these issues—and make schools safer—was discussed bluntly and candidly in social media. On CNN's Facebook page, Wednesday's arrest in the Massachusetts teacher's death was the most commented-upon story of the day.
The remark that provoked the most debate was a simple statement by Ryan J. Judson: "The problem is the lack of God."
Some agreed. Some disagreed. What both sides had in common was how strongly they felt.
"I guess bad things never happen to people that follow God then," Donald Burkett wrote.
Another commenter took a less metaphysical approach.
"What the hell is wrong with this generation???" wrote June Marie Cariello-Izenman. "What are they learning at home???"
One commenter replied, "More like, what are they learning from their friends and/or internet ..."
"They are not learning anything and are being told it is OK to have no moral compass by the school systems they spend more time with than their families," said Patrice Cassidy Ripley.
Conservative commentator Ben Ferguson favored arming teachers who are interested in going through gun training to defend their schools, faculty and students. He cited how some teachers already have military and law enforcement backgrounds.
"We hear about teachers using their body as a human shield," Ferguson said. "If that guy is willing to use his body as a human shield, I trust him to go through training to carry a gun.
"I don't want every teacher to be armed," he added.
Others urged a measured, temperate response.
Bishop Dan Edwards of the Episcopal Diocese of Nevada noted how "all of us are personally affected when violence erupts in a school, which of all places should be safe for children, a place to learn and grow."
But he urged prayer for the town of Sparks and asked that the public "consider deliberately and compassionately what we can do to keep our children safe."