Teenager charged with killing beloved Massachusetts teacher
Suspect's interview with police, video evidence led to murder charge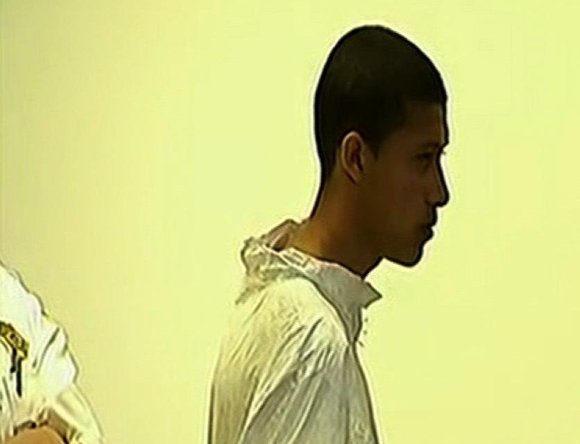 DANVERS, Mass. — A young, beloved teacher found killed in the woods. A 14-year-old student in custody, charged with her murder.
That much we know. But hours after both were found — one dead, one alive — in suburbs northeast of Boston, much remains unknown as to why Colleen Ritzer died brutally.
"It is a terrible tragedy for the entire Danvers community," said Essex County District Attorney Jonathan Blodgett of the town some 20 miles north of Boston.
Authorities had been looking for the student, Philip Chism, first after he was reported missing — with police sending out messages via Twitter and Facebook on Wednesday evening, noting he'd been last seen around 6:30 p.m. and asking for the public's help in finding him.
They got a call around 11:20 p.m. about another missing person, 24-year-old Ritzer, after she too hadn't returned home and was not answering her phone call, according to Blodgett.
A flurry of activity came next. Police in Topsfield, the town just north of Danvers, around 12:30 a.m. spotted Chism walking alongside a busy road there.
Authorities also converged on Danvers High School — where Ritzer taught and which Chism attended — finding blood in a second-floor bathroom, the district attorney said. The teacher's body was soon thereafter discovered behind the school.
Chism was tied to her death after police interviewed him and reviewed video surveillance from the school, a criminal complaint states.
"Based on his statements and the corroborating evidence found at multiple scenes at ... Danvers High School and surrounding wooded area, the juvenile was subsequently placed into custody and booked for murder," adds the complaint.
He was arraigned Wednesday afternoon in Salem, Massachusetts, on a murder charge, with prosecutors accusing him of beating the teacher to death. Afterward, Chism was ordered held without bail. A grand jury must decide if he will be charged as an adult.
Meanwhile, the tight-knit community of Danvers is at a loss to explain why someone might take the life of Ritzer, a 24-year-old known for posting inspirational messages on her Twitter account and offering students extra help when they needed it. All of Greater Boston, in various ways, is sharing in the pain: the Boston Red Sox plan to have a moment of silence Wednesday night before the start of Game 1 of the World Series at Fenway Park, according to club spokeswoman Zineb Curran.
All seven schools in the North Shore town were closed Wednesday, as investigators continued their work and students and residents mourned the loss of Ritzer.
"There's not words to describe her," freshman Spencer Wade said of Ritzer. "She's such an excellent teacher."
Suspect had lived in 3 states in recent years
Just Monday, the Danvers police department was tweeting its support for families and first responders affected by the shooting death of a Sparks, Nevada, teacher — allegedly at the hands of a 12-year-old boy.
Little did these officers know they'd soon be investigating their own case of a student accused of killing a teacher.