Sebelius on the spot in Obamacare website fiasco
Obama expected glitches, but not problems on the scale seen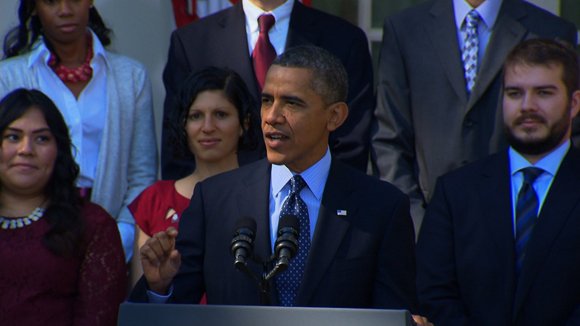 Call it the Obamacare website fiasco, with the focus Wednesday on Health and Human Services Secretary Kathleen Sebelius after she told CNN that President Barack Obama knew nothing of the problem before it became evident starting on October 1.
Sebelius headed to the White House for an afternoon meeting with insurance industry executives, then was scheduled to leave town to participate with other officials in what the administration calls a "grassroots effort" to boost enrollment in Obama's signature health care reform system.
Republican opponents seeking to undermine the 2010 Affordable Care Act call for Sebelius to be fired for the website problems in the program overseen by her department.
They also want to delay the deadline for people to obtain health coverage under the law or face a fine, with some congressional Democrats joining that call.
Here are the latest developments:
Fixing the problems
At the White House, spokesman Jay Carney gave reporters the most detailed account yet of steps being taken to address the website problems that have included long delays, difficulties signing in and incorrect information getting relayed to insurance companies.
"We are making fixes to the existing system," Carney said, noting that developers were increasing the bandwidth and "improving site architecture" to deal with the volume of visitors to Healthcare.gov.
"We're substituting in hardware to make changes that make it more optimized," Carney added. "And we're improving database queries."
More tests are coming "now that we know what we're dealing with in terms of volume," he said.
Carney also said the Department of Health and Human Services will hold daily briefings, starting Thursday, to provide updates on progress being made to improve the website, one of four ways for people to enroll in the insurance exchanges set up under Obamacare. The others are by phone, in person at sites set up across the country, and by mail.
Signing up the uninsured
Sebelius and other Cabinet secretaries as well as White House officials will head to cities across the country to encourage uninsured people to enroll in the new system.
"We are planning to deploy White House officials and Cabinet secretaries to the 10 cities across the country with the highest rates of uninsured Americans to do enrollment events and other grassroots activities," an administration official said. "These cities and metropolitan areas include Dallas; Houston; Miami; Atlanta; Phoenix/Tucson; North Jersey; Tampa; Orlando; Detroit and San Antonio."
Exclusive CNN interview
In the interview Tuesday with CNN's Dr. Sanjay Gupta, Sebelius said Obama didn't hear that there may be problems with the sign-up portal for new exchanges under the health care law until it went live on October 1.
The site was supposed to make it simple for people to search and sign up for new health care policies, but instead it's been clunky and, at times, inoperable.
She attributed some problems to "extremely high" volume, saying nearly 20 million people came to the Healthcare.gov website in the first three weeks after its launch.
Of those, about 500,000 created accounts on the website, far below the millions that the administration hopes to eventually sign up in the six-month open enrollment period that ends on March 31.