Glendale teacher charged with allegedly sexually assaulting a teenage girl on the campus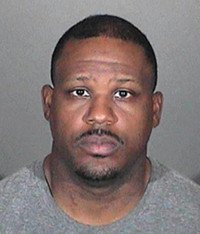 GLENDALE, Calif. — A teacher was charged today with four felonies for allegedly sexually assaulting a teenage girl on the campus of Glendale's Hoover High School.
Delvon Jackson, 38, of Los Angeles, was charged with three counts of lewd acts on a child and one count of sexual penetration by a foreign object.
He was expected to be arraigned this afternoon in Glendale.
The Glendale Unified School District notified police Tuesday "regarding an allegation of a sexual assault involving an hourly Los Angeles County Regional Occupational instructor and a 14-year-old female on the campus of Hoover High School," according to Glendale police Sgt. Tom Lorenz.
Jackson was arrested Wednesday at Glendale school district offices, Lorenz said.
According to Lorenz, the investigation revealed that Jackson led people to believe he was a former officer with the Inglewood Police Department, and that may have helped him gain trust and respect among students.
"Detectives learned that Jackson was employed as a part-time hourly employee for the city of Inglewood in parking control," Lorenz said. "He was separated from the city of Inglewood in 2009. According to detectives, Delvon Jackson was never a police officer for Inglewood, nor any other police agency."
Bail was set at $100,000 for Jackson, although prosecutors planned to ask that the amount be increased to $400,000.
Prosecutors said Jackson allegedly engaged in sex acts with the girl on three occasions between Oct. 1 and Monday.
He faces up to five years in prison if convicted, according to the District Attorney's Office.