Domestic violence still a challenge
Acceptance of abusive treatment can start young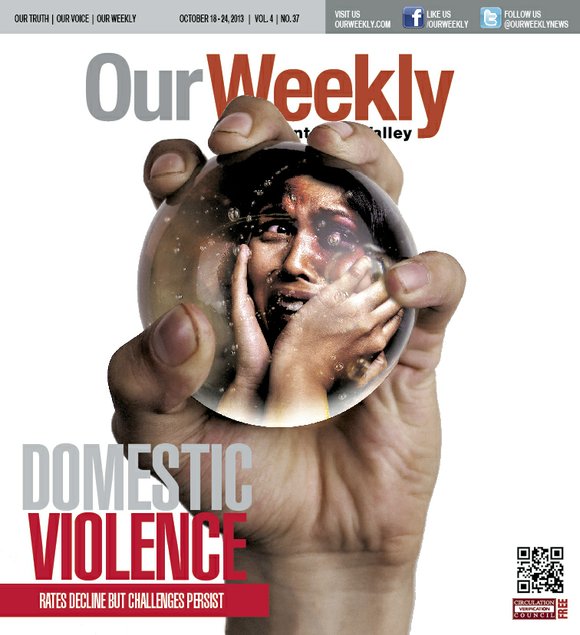 Unfortunately, statistics gathered from law enforcement, hospitals and community groups demonstrate that the daily, "private" violence between mates continues amid the cultural shadows of fear, shame and lack of awareness.
California's Domestic Violence Advisory Council defines domestic violence as a "spectrum" and often a "pattern" of behaviors that includes physical, sexual, verbal, emotional and psychological abuse and/or economic control used by adults or adolescents against their "current or former" intimate partner in an "attempt to exercise power and authority." These methods of abuse are said to have a had a destructive, harmful effect on individuals, the family and the community.
According to the National Center for Injury Prevention and Control, women experience about 4.8 million intimate partner-related assaults and rapes each year. Less than 20 percent of these battered women were believed to have sought medical treatment following the injury.
The Department of Justice, in 2008, reported that young women ages 20-24 years, low-income women and some minorities—particularly Black women of all ages—are disproportionately victims of domestic violence and rape.
Valley Oasis in Palmdale has for 32 years addressed domestic violence with innovative services. They offer a 60-day emergency shelter for victims wishing to immediately flee from the violence; transitional housing is available for women who, often with children, must learn to establish a new, safe household. In this element of the program, residents may live for two years in their own apartments and/or houses and are monitored by trained staff. This aspect of the program has served more than 400 victims of domestic violence; a second transitional housing facility opened in 1999.
Sexual assault services are available as well.
"Kayla's Place" provides parent-child interactive therapy, while the "Strengthening Young Families" program endeavors to teach life skills to young couples with children.
Valley Oasis will host its fourth annual R.E.V. Ride and Car Show tomorrow, benefiting the center as well as the Lancaster Sheriff's Station Volunteer Program. Crazy Otto's restaurant and Antelope Valley Harley Davidson will co-host the event, which will begin at 9 a.m. at the Michael Antonovich Superior Courthouse, 42011 4th Street West, and culminate at Antelope Valley Harley Davidson, 1759 W. Avenue J12 in Lancaster. Food vendors will be present, along with live music, a car raffle and a classic car show.
Valley Oasis offers services to women, men, children, emancipated minors and the Lesbian/Gay/Bisexual and Transgender community. Organized in 1981 at the request of Los Angeles County Supervisor Antonovich (Fifth District), Valley Oasis offers a park-like setting consisting of 11 cottages on about two and one-half acres. They serve the entire Antelope Valley as well Bakersfield to the north and the San Fernando Valley to the south.
Other findings from the Domestic Violence Resource Center (2006) found that residents of urban areas demonstrate the highest level of domestic violence. On average, the report stated, more than three women and one man were murdered daily by their intimate or "live-in" partner. The study also suggested that 3.3 to 10 million children witness some form of domestic violence annually.