Clark Atlanta University gets STEM grant; Yoga nonprofitexpands to FAMU; Mayor Dave Bing supports Jackets for Jobs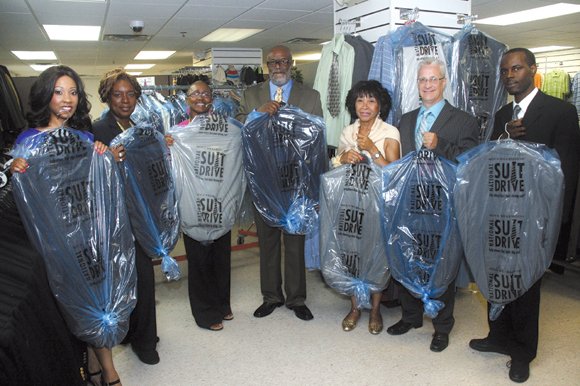 Michigan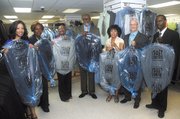 Jackets for Jobs, (JFJ) Inc., a nationally recognized award-winning nonprofit organization, provides career skills, interview training, work etiquette and professional clothes to clients searching for employment. The vast majority of JFJ clients need professional clothing to wear on job interviews. Detroit Mayor Dave Bing recently availed his support for the 13-year-old organization and arranged for a clothing pick up. Alison Vaughn, JFJ founder stated, "Unemployment comes in all sizes, and we are grateful to Mayor Bing [6 feet, 3 inches tall] for his generous donation of suits and shirts. We thanked the mayor for believing in our mission." The organization has assisted more than 14,000 job seekers since opening its doors in 2000. Weatherman Al Rocker, Grammy award-winner BeBe Winans and R&B singer KEM also donated to the men's division of the organization.
Minnesota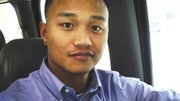 A 2-year-old boy, who was reportedly the son of Minnesota Vikings star Adrian Peterson, died Friday of injuries he suffered after allegedly being abused, police said. According to law enforcement officials, Joseph Robert Patterson, 27, has been charged with aggravated battery of an infant and aggravated assault. If convicted on the charges, both felonies, Patterson could face up to 40 years in prison and an $80,000 fine. Patterson called authorities about 5:45 p.m. Wednesday to report that a 2-year-old was choking in his Sioux Falls, S.D. apartment, police spokesman Sam Clemens said. Officers arrived to find that the toddler was unresponsive, and he was rushed to a nearby hospital. Authorities determined that the child had suffered injuries to his head consistent with abuse, according to Clemens. Police said Patterson, whom they described as the boyfriend of the child's mother, was the only other person in the residence at the time.
Pennsylvania
National and local civil rights organizations are calling on Pennsylvania Gov. Tom Corbett to immediately address the tragedy of the Philadelphia school budget crisis and to provide more fair and equitable state funding so that every Pennsylvania student can receive a high-quality education. In a letter sent this week to Gov. Corbett, organization leaders called on the state to immediately release $45 million in funds earmarked specifically for the School District of Philadelphia. The leaders are also calling on the Governor to restore and update a funding formula put in place by his predecessor that more fairly distributed education funding based on costs, rather than the newly adopted system, which greatly underfunds low-income school districts. Signers of the letter include the heads of national and local affiliates and partners of the NAACP, the Southeast Asia Resource Action Center, the National Urban League; as well as the heads of national groups including The Leadership Conference on Civil and Human Rights, the League of United Latin American Citizens; and the heads of the local affiliates of the Education Law Center.
National
The National Black Church Initiative, a coalition of 34,000 churches representing 15.7 million African American churchgoers, labeled governors who are blocking implementation of President Barack Obama's signature healthcare reform initiative as "wrong, misguided, and placing more undue financial burdens on the backs of the poor and middle class. We are ashamed to see governors throughout our country refusing to expand Medicaid in their states as a part of the Patient Protection and Affordable Care Act, ACA; what we see as President Obama's greatest accomplishment and indeed one of the greatest laws in American history," NBCI President Rev. Anthony Evans said in a statement released Oct. 11. The statement was issued at the end of the second week of a chaotic inaugural sign-up period for health insurance under the ACA. Yet, the NBCI statement pointed out, "more than 20 states, mainly Republican-led ... are refusing to expand Medicaid or leaning in that direction."
Compiled By Juliana Norwood.