LAX employee arrested in dry ice bomb explosions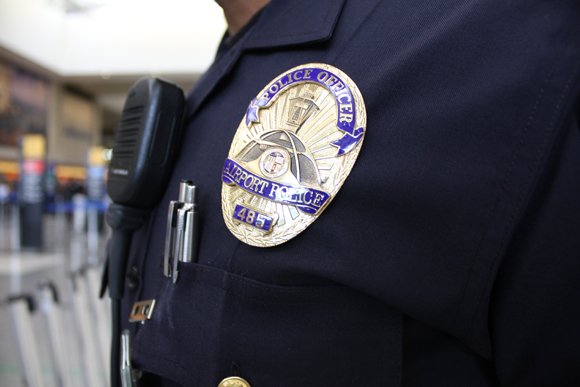 LOS ANGELES, Calif. — A 28-year-old Paramount man employed at Los Angeles International Airport was in custody today in lieu of $1 million bail on suspicion of having set off two dry ice bombs at the facility, causing no injuries but disrupting airport operations.
In announcing the arrest of Dicarlo Bennett, the Los Angeles Police Department did not immediately reveal a possible motive behind the explosions or disclose what prompted detectives to zero in on Bennett, who was arrested in Paramount around 7 p.m. Tuesday.
"Dicarlo Bennett was picked up at his home by detectives from the LAPD's Criminal Conspiracy section, Major Crimes unit, and booked on a felony charge of being in possession of an explosive or destructive device in or near an aircraft," said Los Angeles police Detective Gus Villanueva. "He's being held at the Metropolitan Detention Center downtown and his bail has been set at $1 million."
Villanueva has said there appeared to be no connection to terrorism, and Airport Police Chief Patrick Gannon said LAX is safe.
"We want to thank the Los Angeles Police Department and the collective efforts of all law enforcement agencies which contributed to this arrest," he said in a statement. "Once again we want to reassure the traveling public, visitors and employees that LAX is safe and secure."
Bennett is suspected of placing the dry ice bomb that exploded in an employee restroom in Terminal 2 Sunday and the one that went off outside the Tom Bradley International Terminal on Monday, both blasts occurring in areas off limits to the public. If convicted, he will face prison and fines.
"The exact number of counts he will ultimately face will be set by the District Attorney's Office," Villanueva said.
According to Bennett's Facebook page, he is working as a ramp supervisor for Servisair, a 59-year-old British company, which provides a variety of ground services at 175 airports worldwide. Servisair is responsible for aircraft cleaning, cargo handling, fueling, and guest services at LAX and is accredited to handle dangerous goods, according to the company's website.
Bennett graduated from Alexander Hamilton High School in Los Angeles in 2002 and attended classes at Santa Monica College, according to his Facebook page.
The most recent explosion took place just before 8 p.m. Monday outside the Tom Bradley International Terminal. The bomb squad responded and located two other dry ice bombs before they could explode, Villanueva said.
Monday night's blast was the second of its type at the airport in as many days. The explosion on Sunday night took place about 7 p.m. in an employee restroom at Terminal 2, which is used by several domestic and international airlines.
A dry ice bomb is not a sophisticated device, "but if you were standing near it when it exploded, you could get hurt," Villanueva said.
A dry ice bomb commonly consists of dry ice sealed in a rigid container, often a plastic bottle. As the dry ice breaks down, carbon dioxide is formed and begins to build pressure on the walls of the container until it explodes, turning into flying shrapnel.
Dry ice bombs can take anywhere from 30 seconds to 30 minutes to explode, so their unpredictability can be dangerous for the bombmaker as well as for innocent passersby.
If a dry ice bomb doesn't go off, writes Anne Marie Helmenstine on the about.com website, it is still dangerous and releasing the pressure could cause it to explode. The only safe way to defuse it is to rupture it at a distance, which usually requires the involvement of law enforcement.
In addition to the LAPD, the dry ice incidents were also being investigated by the FBI, although the agency's role in Tuesday's arrest was not immediately disclosed.
Jim Crogan | City News Service