Dodgers need win tonight or face elimination in Game 5 of NLCS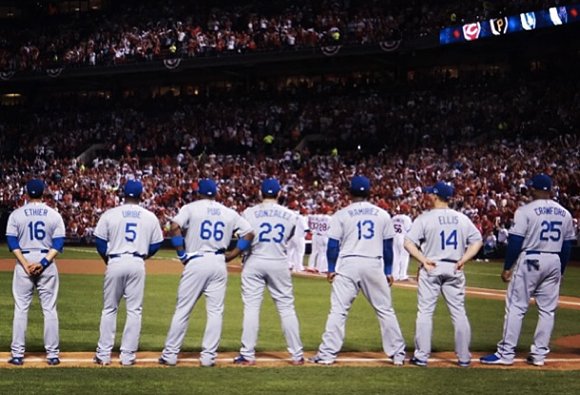 The Los Angeles Dodgers will try to avoid elimination today when they play host to the St. Louis Cardinals in Game 5 of the National League Championship Series at Dodger Stadium.
The Dodgers fell behind three games to one in the best-of-seven series with a 4-2 loss Tuesday at Dodger Stadium as Matt Holliday hit a two-run home run in the third inning and pinch-hitter Shane Robinson slugged a solo home run in the seventh before a crowd announced at 53,992.
Zack Greinke will pitch for the Dodgers, opposing Joe Kelly in a rematch of the Game 1 starters.
Manager Don Mattingly remained optimistic about the Dodgers' chances of winning their first National League pennant since 1988.
"I've got one of the best pitchers in baseball pitching tomorrow," Mattingly said after Tuesday's game. "If we come out here and play well tomorrow and get a win, I've probably got the best pitcher in baseball pitching (Friday)," referring to Clayton Kershaw.
"If there are any good thoughts it's that I know tomorrow we'll come ready to play. It's a quick turnaround. We don't have time to feel sorry for ourselves."
Greinke allowed two runs and four hits in eight innings in Game 1, striking out 10 batters and walking one. Kelly, a graduate of Corona High School who pitched three seasons for UC Riverside, allowed two runs and six hits in six innings, with five strikeouts and two walks in a game eventually won by the Cardinals, 3-2, in 13 innings.
All auto and stadium gates will open at 10 a.m. The Dodger Stadium Express will operate starting at 10 a.m. from Union Station to Dodger Stadium.
The team is encouraging fans to arrive early, carpool and use public transit for the sold-out game, whose first pitch is set for 1:07 p.m. Pregame ceremonies will begin at 12:40 p.m.
Orel Hershiser will throw the ceremonial first pitch on the 25th anniversary of being the winning pitcher in the most recent World Series game to be played at Dodger Stadium. Hershiser was the MVP of the 1988 World Series.
The Cardinals scored all the runs they would need in the third on Tuesday. Daniel Descalso led off with a single, moved to second on Lance Lynn's sacrifice bunt and scored on Matt Carpenter's double. Holliday homered one out later off starter Ricky Nolasco, who allowed three runs and three hits in four innings and was charged with the loss.
Lynn, the St. Louis starter, was credited with the victory, allowing two runs and six hits over 5 1/3 innings in what manager Mike Matheny called "a real gutsy performance with a lot of heart."
"He got himself in trouble a couple of times, wasn't afraid to make tough pitches in tough situations and put people in scoring position to get to a spot that he wanted to be, then he made the pitches he had to," Matheny said.
Three relievers shut out the Dodgers over the final 3 2/3 innings, aided by double plays in the sixth and ninth. Trevor Rosenthal pitched the ninth for the save.
The Dodgers scored both their runs in the fourth. Adrian Gonzalez led off with a double and Andre Ethier walked. Yasiel Puig followed with a single, driving in Gonzalez and advancing Ethier to second. Ethier moved to third on Juan Uribe's fly out and scored on A.J. Ellis' single.
Just one Dodger advanced past first base for the remainder of the game—
Nick Punto, who doubled with one out in the seventh, but he was picked off by reliever Carlos Martinez.
"That was unbelievable," Matheny said. "That's instigated by (shortstop Pete) Kozma... then it has to be natural instincts and athleticism by Carlos Martinez. I don't know many guys that pull that off. To have the guts to wheel and let it fly like that in a game like we have right now, it's off the charts."
Steven Herbert | City News Service