Ex-con in custody suspected of fatal hit-and-run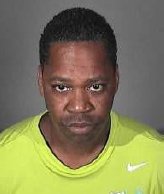 HAWTHORNE, Calif. — An ex-con suspected of fatally striking a pedestrian in Hawthorne was in custody today, police said.
Edwin Otis Thurman, 51, of Hawthorne, was arrested shortly after a 70-year-old woman was fatally struck near Rosecrans and Cordary avenues about 8 p.m. Saturday, Hawthorne police said.
Thurman, a convicted felon, was booked on suspicion of possessing a loaded weapon and illegal drugs, Hawthorne police said. He was also given field sobriety tests, which he allegedly failed, and a blood sample was taken, but the results are pending, police said.
The name of the woman killed was being withheld.
Thurman was being held on $100,000 bail and tentatively scheduled to be in the LAX courthouse on Wednesday, according to sheriff's department. No information was given about the felony crime in which he was convicted.
The woman, who was not in a crosswalk, was crossing Rosecrans Avenue when she was hit by a vehicle going east on Rosecrans, police said. The motorist drove away, then made a U-turn at Doty Avenue and returned to the scene, police said.
"An alert citizen who witnessed the accident saw the driver of the vehicle that struck the pedestrian then exit his vehicle and place a bag in a nearby set of bushes," Hawthorne police said.
In the bag, police found a loaded gun and unspecified drugs packaged for sale, police said. Thurman was arrested on suspicion of possession of the loaded firearm and drugs, police said.