AIDS Walk LA raises more than $2.5 million for service organizations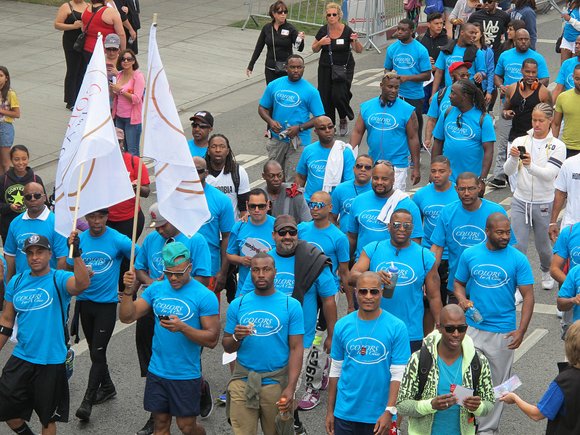 More than 25,000 people walked 10 kilometers through West Hollywood and the Fairfax district Sunday in the 29th annual AIDS Walk Los Angeles, raising in excess of $2.5 million for AIDS Project Los Angeles and 27 other Los Angeles County-based AIDS service organizations, according to organizers.
"Today has been another extraordinary outpouring on public support for AIDS Project Los Angeles," said Craig Miller, the founder and senior organizer for AIDS Project Los Angeles. "We are so blessed to have so many supporters who take the time and make the effort to be a meaningful part of L.A. County's fight against AIDS."
A "great deal of the money" raised from the walk benefits APLA Dental Services and APLA's Vance North Necessities of Life Program, billed as the nation's largest network of food pantries for people with HIV and AIDS, Miller told City News Service.
"The two greatest needs for people living with HIV in L.A. County are good nutrition and good dental care," Miller said.
Dental care is a particular need because "those with HIV disease are more prone to oral infections and the consequences of cavities or oral infection or cavities poses a much-greater risk," Miller said.
AIDS is also an "economic disease" with those being diagnosed with it unable to work as much, reducing their incomes and forcing them to make choices about what to spend money on, with dental care "being pushed aside" in favor of such greater necessities as housing and food, Miller said.
AIDS in Los Angeles County "is a big problem and it doesn't need to be," Miller said.
"The number of new infections occurring in the United States is over 55,000 a year and Los Angeles County has more than its share of the new infections," Miller said. "Our government and our society as a whole is still doing a relatively poor job in connecting HIV-positive people to care.
"This is injurious not only to the health of HIV-positive people, but it puts at greater risk HIV-negative people. Effective medication brings way down the communicability. When people are well-connected to care, they have a longer, healthier life and the likelihood of them passing along the disease is greatly diminished."
The solution is to help HIV-positive people "get doctors who understand the illness and its treatment and getting them on effective medications. It also means supporting them to stay on their medications," Miller said.