Shutdown Day 10: House GOP will propose a short-term debt ceiling proposal
Decision may be a move in the right direction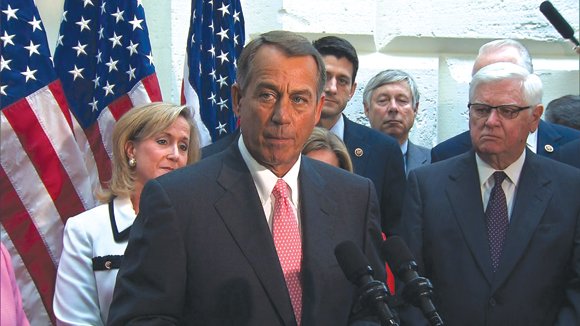 The legislative wrangling comes amid a stalemate that has Republicans trying to use spending and debt limit deadlines as leverage to wring concessions from Obama and Democrats.
Because of the impasse, the partial government shutdown began when Congress failed to fund the government for the new fiscal year that began Oct. 1. Another deadline looms as soon as next week, with economists warning that failure to raise the federal borrowing limit could bring a U.S. default and the possibility of another recession.
Boehner and Republicans are demanding that Obama and Senate Democrats negotiate on deficit reduction steps that would be part of legislation to reopen the government and raise the limit on federal borrowing needed to pay the bills.
Obama has refused to enter formal talks until the shutdown ends and the debt ceiling has been raised to remove the threat of default.
A senior House Republican told CNN that GOP members may be willing to go for a short-term debt ceiling hike—lasting four to six weeks—as long as the president agrees that negotiations will occur during that time.
However, no specifics were immediately available about how such legislation would take shape or how the talks would occur.
Tom Cohen, Dana Bash and Deirdre Walsh | CNN