James Holmes trial could take 8 months; Woman kills 6 month old granddaughter; Utah hosts successful Underwear Run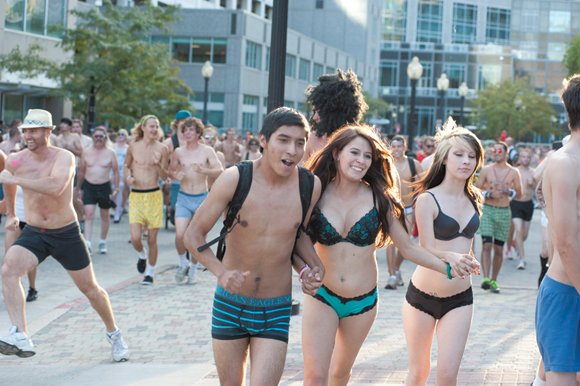 Illinois
Left to babysit her 6-month-old granddaughter, a suburban Chicago woman instead turned on the infant, bludgeoning her and cutting her throat, prosecutors said Monday. Alfreda Giedrojc is being held without bail after a court appearance Monday afternoon, said Tandra Simonton, a spokeswoman for the Cook County State's Attorney's office. She was charged with first-degree murder in the death of her granddaughter, Simonton said. The girl's father brought her to Giedrojc's home in the southwestern suburb of Oak Lawn on Sunday while he helped with repairs on a nearby home, Simonton told CNN. Giedrojc laid the child on the floor, pulled a sledgehammer from a nearby closet and swung it down on her head and body several times. She then picked the baby up and used a carving knife to slit her throat when she was still alive, Simonton said. Oak Lawn Police Det. Mike Kaufmann said the 61-year-old Giedrojc expressed remorse for the child's death when questioned, and investigators have found no record of previous arrests or mental illness.
Louisiana
Three men are being held on million dollar bonds after they were caught with 71.8 pounds of cocaine at the Baton Rouge Metro Airport. The Louisiana State Police reports that the bust happened on Oct. 8. Troopers were contacted by the Immigration and Customs Enforcement Agency (ICE) regarding the suspicious flight pattern of a plane headed for refueling at the Baton Rouge airport. The plane took off from the Texas/Mexico border and was occupied by Vincenzo Salzano, 55 of Aurora, Colo.; Mohammad Nekouie, 32, of Denver, Colo.; and Armondo Salzano, 32, of Littleton, Colo. They told officials they were headed to Atlanta and agreed to a search of the plane. Troopers located the cocaine, but have not said where it was stashed. The cocaine has an estimated street value of $2.2 to $2.5 million. All three were arrested and charged with possession with the intent to distribute. They were booked into the East Baton Rouge Parish Prison.
Ohio
The two Ohio prison guards responsible for checking on imprisoned Cleveland kidnapper Ariel Castro "did not timely perform" required rounds, the Ohio Department of Rehabilitation and Correction said Thursday. The agency said they appeared to have falsified "the post log book for their rounds." Castro, who was held at the Correctional Reception Center in Orient, was found hanged with a bed sheet last month. Prison medical staff tried to revive him. The guards were placed on leave as investigators looked into Castro's suicide. Any disciplinary action, which could include termination of employment, will be determined by the Ohio State Highway Patrol at the conclusion of its investigation. Castro pleaded guilty in August to 937 counts, including the kidnapping of Michelle Knight, Georgina DeJesus and Amanda Berry. He was sentenced to life plus 1,000 years.
South Carolina
Two people have been charged after an investigation into a Piedmont gaming store prompted federal agents to raid the business, according to federal officials. Bobby Moseley Sr. and Jerome Michael Caldwell were both charged with one count of operating an illegal gambling business and one count of money laundering, according to the indictment. The Secret Service seized $242 million in property and real estate, and $144 million used in money laundering, according to the indictment. Agents with the Internal Revenue Service and the Secret Service raided the store on Kiawa Lane on Wednesday, according to a source with the Secret Service. There is no word yet what prompted the raid or what authorities were looking for, but FOX TV Carolina crews said they could count about a dozen sweepstakes machines outside the business and even more inside.
Utah
Hundreds of people braved cooler temperatures to run around downtown Salt Lake City Sunday in nothing but their underwear for the Utah Undiewear Run. Event organizers said they don't tell people who attend the free speech event what to advocate for, and participants pushed for everything from legalizing marijuana to same-sex marriage reform and autism awareness. Organizer Eric Steen said the event takes a unique approach to pushing for reform. "You can go out in suits and picket signs and stuff like that and make a statement, but nobody really looks at those guys," Steen said. "But you go out in your underwear, everyone's going to look at you to see what's going on." Several weeks ago, event organizers were told they would have to pay several thousands of dollars to carry out the run as a planned event, in order to pay for police and other resources. Instead, event organizers changed the date and made the event a free speech protest.
Compiled By Juliana Norwood. CNN News Wire contributed to this report.