James Holmes trial could take 8 months; Woman kills 6 month old granddaughter; Utah hosts successful Underwear Run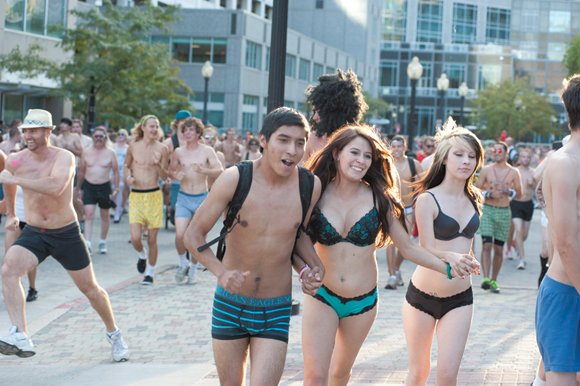 Alabama
In a mystery straddling two states, three men and a woman were found dead of shotgun blasts in north Alabama after two of them were targeted in a Tennessee child pornography investigation, police say. It's being called a triple murder-suicide pact, as it appears the shooter killed his sister, former brother-in-law and friend before turning the 12-gauge on himself. The four left handwritten suicide notes claiming their innocence and making requests for their funeral arrangements. Authorities discovered the notes, along with the bodies, in a car near Double Springs, last week, Sheriff Rick Harris in Winston County told CNN. Kristie Hunt Campbell Hamrick, 39; her ex-husband, Robert Samuel Hamrick, 30; her brother, Andy Hunt, 38; and family friend Kevin Carey, 30, who all listed the same Savannah, Tenn. address as their home, were inside the vehicle. Campbell Hamrick and her ex-husband became targets of a pornography probe after a teenage girl made allegations in September to the Department of Children's Services, which contacted the Hardin County, Tenn., police, said Sheriff Samuel Davidson.
California
A local husband and wife became the first couple in the country to each donate a kidney through the National Kidney Registry. "Saving your kidney for a rainy day is like saving your fire extinguisher while watching your neighbor's house burn," Alexis Wesley said. It's that type of thinking that lead Wesley and her husband, Charles, to a Sharp Memorial Hospital room. Alexis had surgery Monday night. "It is really easy and a really, really simple way to save someone's life," she said. The impact of her decision is anything but simple. Alexis and Charles Wesley made history, when they used the National Kidney Registry to save 10 lives. The non-profit connects patients with compatible donors through exchanges. The Wesley's donation prompted others to follow suit and set in motion two transplants in California, two in Maryland, as well as one in Ohio, Pennsylvania and New York. "I don't really need to meet the person," Alexis Wesley said. "I just wanted to know if his transplant was successful."
Colorado
Those deciding accused Colorado movie theater shooter James Holmes' fate should expect the whole process to take eight months, a judge ruled Wednesday, suggesting—while few question who is behind the massacre—that other factors might prolong the case. District Court Judge Carlos Samour Jr. detailed his estimate in an order pertaining to the questionnaire prospective jurors will have to fill out. Agreeing with the prosecution that it's better to overestimate than underestimate how long everything will take. Samour said jurors will be told jury selection could go on for two to three months. The actual trial is expected to last four to five months more, he said. Other parts of the judge's order allude to what may be the biggest complicating factor in the trial—mental health, including the prospect of a person pleading not guilty by reason of insanity, as Holmes has done. Jury selection in the case is expected to begin Feb. 3, 2014, according to Colorado state courts spokesman Rob McCallum.