Smokey Joe's Café: it's hot, hot, hot
Gail Choice | 10/10/2013, midnight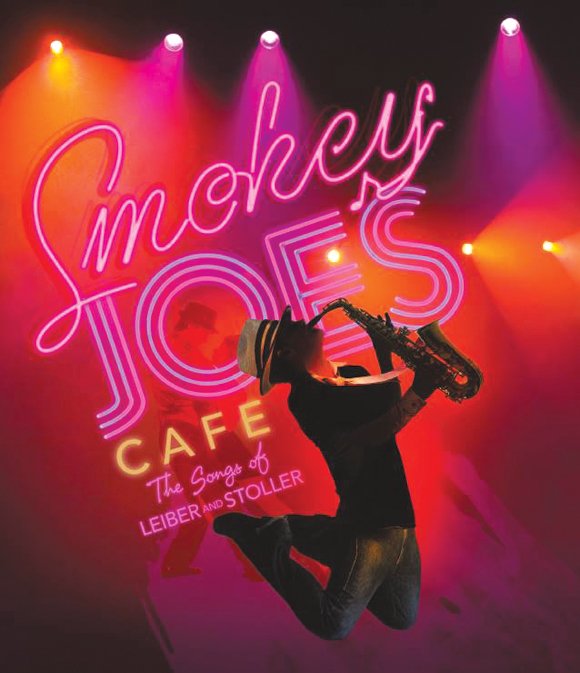 There is nothing like a live performance, and when you mix it with great singing, songs that make you bop your head or bring back memories, you're in for a good time.
This all happens with "Smokey Joe's Café." This is Rock 'N Roll baby.
Now playing at the Pasadena Playhouse, "Smokey Joe's Café" is a lesson in Americana, cultural crossovers and legendary music, performers and musicians.
Referred to as jukebox music, "Smokey Joe's Café" is a Tony Award-nominated and Grammy Award-winning tribute to legendary songwriters Jerry Leiber and Mike Stoller, two young men who in the 1950s and 1960s captured life from a very different point of view and ended up creating the sound of the era—Rock 'N Roll.
The impressive and outstanding number of hit songs they produced is a testament to their genius which captured the sound of a generation, and even the King of Rock 'n Roll—Elvis. Simply put, the songs remain popular to this day.
"Smokey Joe's Café' is an incredible and wonderfully entertaining musical revue. I didn't know that when I sat down to enjoy the play. I kept waiting for the dialogue and after the first two songs I asked a friend, "When do they start acting?" I was already enjoying the singing, and when I learned this was actually a musical, I sat back, relaxed ready to enjoy the show. But I couldn't sit still, if I wasn't singing to, "Dance With Me," "Poison Ivy," or "Shoppin' for Clothes" I was dancing in my seat while the male ensemble knocked "On Broadway" out. I couldn't wait until intermission was over, I didn't know what to expect, but I knew whatever it was I wouldn't be disappointed and I was right. From "Yakety Yak," "Along Came Jones," to "Charlie Brown," and "Hound Dog" the joint was rockin' with full orchestration accompanying them on stage.
Each song selection told it's on story. For instance, "Shopping for Clothes" featured dancing, headless mannequins with attitudes. And the store clerk kept patting his hair rather than scratching it; you know what I mean ladies. The song, as some of you may recall was a narrative. Brother goes into buy a suit, "… pure, pure herringbone," a suit he could never own.
The choreography is creative, highly energetic and they move parts of the body in unison so well. I was just amazed. From the very sexy "Trouble," and "Don Juan," to the hip-shaking "Teach Me How to Shimmy" and the very lovely "Spanish Harlem," the cast of eight brings contemporary dance to a whole new level.
The LA Times reported that "Smokey Joe's Café" opened on Broadway in 1995 and ran for more than five years, tallying more than 2,000 performances and becoming the most successful musical revue in Broadway history. It has since played extensively in London and in smaller productions across the U.S.
Leiber and Stoller wrote for Elvis Presley, the Drifters, the Coasters, Ben E. King, Big Mama Thornton and numerous other early rock and R&B stars. Among the classics that earned the pair a place in the Rock and Roll Hall of Fame: "Hound Dog," "Jailhouse Rock," "Yakety Yak," "Charlie Brown," "Kansas City," "There Goes My Baby," "Stand By Me."
You have an opportunity to experience the magic, energy and sheer joy of "Smokey Joe's Café" but you'd better hurry because "Smokey Joe's Café" ends Oct. 13.
For show times or ticket information and to learn more about "Smokey Joe's Café" go to www.pasadenaplayhouse.org or call (626) 356-7529.