USC bans on-campus parking, tailgating for Thursday's game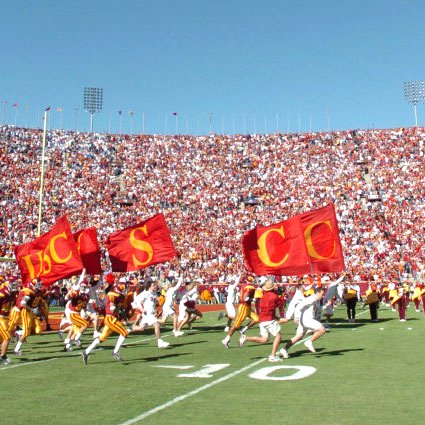 Fans will not be able to park or conduct tailgate parties on the USC campus for Thursday night's USC-Arizona football game because all classes will still be in session and operate on their normal schedule.
The restriction includes campus buildings, parks, the Row and plazas, the university announced.
Tailgating at the Coliseum and Exposition Park will be allowed as on a normal game day.
USC has arranged for parking and tailgating alternatives for its first non-Thanksgiving/non-bowl Thursday game at the Los Angeles Memorial Coliseum.
Campus season parking passes will be honored for lots at the Coliseum along with the USC Parking Center, 3401 S. Grand Ave., Parking Structure 1, 3701 S. Flower St., Parking Structure No. 2, 3335 S. Flower St., and the parking lot at the Shrine Auditorium, 645 Jefferson Blvd.
Parking will also be available at L.A. Live's Lots 6 and 7 on Figueroa Street, between 11th and 12th streets, for $20. Free shuttle service to the Coliseum will run continuously pre-game and post-game.
Metro will begin enhanced Expo Line service at 4:30 p.m. with trains leaving every six minutes from the 7th Street/Metro and Culver City stations.
Enhanced service will continue until about 75 minutes after the game ends.
The Orange County Transportation Authority will provide Metrolink Football Express train service from Oceanside and all points north to Union Station.
Fans should buy a regular roundtrip Metrolink ticket at their departure station, take the train to Union Station, board a Metro Red or Purple Line train to the 7th Street/Metro Station and transfer to the Expo Line.
CID Entertainment will provide "Park & Ride" Trojan Express Shuttle Bus service from Anaheim, Gardena, Pasadena, Ontario and Ventura to the Coliseum. Tickets are $20. More information is available at CID Entertainment.
The Cardinal & Gold Picnic at the Coliseum will be open and available to all fans with tickets to the game. Passes are $65. More information is available online at Arizona vs. USC: Cardinal and Gold Pre-Game Picnic or by calling (213) 740-4155.
The Galen Center Founders Club and arena will be open for a catered tailgate party for $25. Reservations my be made by emailing uscgalentailgate@aramark.com.
Several restaurants and establishments at L.A. Live will welcome USC fans. The Lawry's Carvery at L.A. Live will offer ticket holders a 10 percent discount.
USC has established a website for parking and tailgating information for the game, WePlayFor2013.com/Thursday In addition to the game being the Trojans first non-Thanksgiving/non-bowl Thursday game at the Los Angeles Memorial Coliseum, it will also be their first under interim coach Ed Orgeron, appointed Sept. 29 to replace the fired Lane Kiffin in USC's first midseason football coaching change.
USC's conference schedule is determined by the Pacific-12 Conference which is required to schedule games on Thursdays to fulfill its television obligations.