Awe-inspiring animal migrations that send people flocking
Animals migrate to breed, feed, mate, and various other essentials to survival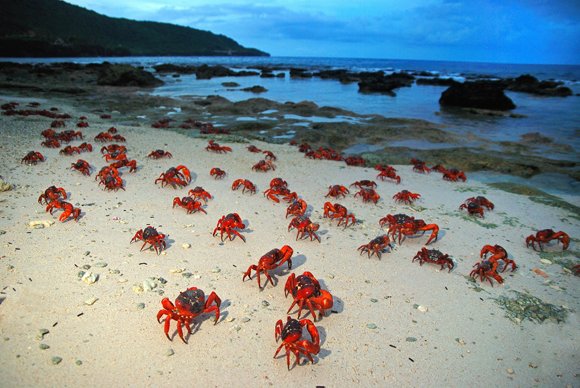 Where: Tanzania and Kenya When: July - August
Crab season
Christmas Island is perhaps best known for the swarm of red crabs that pour onto the roads and beaches every winter.
"It looks like someone came along and planted all these crabs overnight," explains Linda Cash, the marketing manager at Christmas Island Tourism.
When the crabs come out, the atmosphere becomes positively festive, notes Cash. The roads are closed to protect the journeying numbers, and the park builds special bridges to help them cross safely.
"People come down at night with their rakes, move the crabs off the road and share a beer," she says.
Where: Christmas Island When: October - November
A whale of a time
As it happens, humpback whales are a species constantly on the move. This is good news for tourists, who have a plethora of choice for where and when they'd like to engage in whale watching activities.
In the summer months, Colombia's Pacific Coast becomes a hotbed for roughly 3,000 of the journeying mammals, who use the warm waters as their mating grounds. Australia makes another popular spot to glimpse the majestic creatures, who hug the coast from July onwards. The whales can travel over 5,000 miles, and often, savvy businesses set up cruises and watch towers to help visitors get a peek.
Where: Colombia and Australia When: July - October (Colombia), June - November (Australia)
Daisy Carrington | CNN