Los Angeles Dodgers defeat Atlanta Braves
Win division series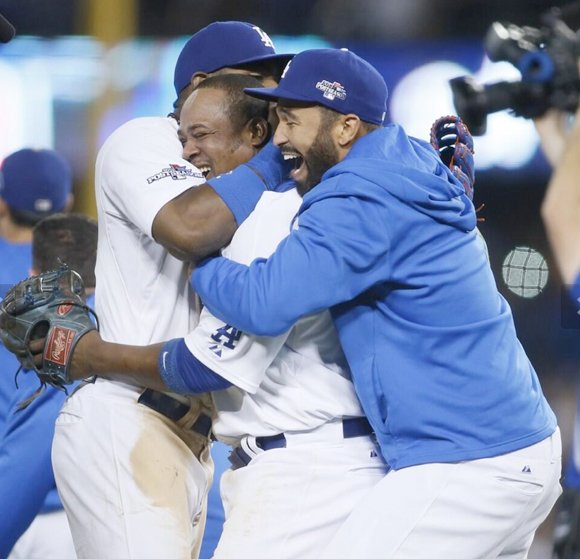 Juan Uribe hit a go-ahead two-run home run in the bottom of the eighth inning tonight as the Los Angeles Dodgers defeated the Atlanta Braves, 4-3, at Dodger Stadium to win their National League Division Series, three games to one.
Atlanta had taken a 3-2 lead in the seventh when pinch-hitter Jose Constanza singled in Elliot Johnson, who had tripled.
Carl Crawford hit solo home runs in the first and third innings to give the Dodgers a 2-0 lead before a crowd announced at 54,438.
Atlanta tied the score in the fourth, combining singles by Freddie Freeman and Chris Johnson, an error by Dodger first baseman Adrian Gonzalez and a wild pitch by Clayton Kershaw for two runs.
Brian Wilson, the fourth of five Dodger pitchers, was credited with the victory, allowing two hits, but no runs, and striking out two batters in the eighth.
Kenley Jansen pitched a perfect ninth inning, striking out the side, for the save.
Reliever David Carpenter, who entered the game in the eighth, allowing a double to the first batter he faced, Yasiel Puig immediately before Uribe's home run, was charged with the loss.
The Dodgers will begin play in the National League Championship Series Friday. Their opponent will be determined Wednesday when the Pittsburgh Pirates and St. Louis Cardinal play the decisive fifth game of their National League Division Series in St. Louis.
If Pittsburgh wins, Games 1 and 2 of the National League Championship Series would be played at Dodger Stadium Friday and Saturday.
St. Louis would play host to the first two games of the National League Championship Series if it defeats the Pirates.
The Dodgers had announced that Ricky Nolasco would be tonight's starting pitcher, but announced this afternoon they were switching to Kershaw, their top pitcher, despite his pitching on three days rest for the first time in his six-year major league career.
The decision to start Kershaw was made "by committee" that included general manager Ned Colletti "and his group," Dodger manager Don Mattingly said before the game.
"Wouldn't be something I would just take on and say that's what we're doing," Mattingly said. "The scenario was something that we talked about before the season even ended. Once we knew we were in and had ourselves set up, seeing the schedule for the playoffs, we looked at different scenarios for Game 4 and what they could be.
"As we kept looking at it, it made more and more sense."
Kershaw allowed two runs, both unearned, and three hits over six innings, striking out six and walking one. He was replaced by Ronald Belisario to start the seventh.