L.A. Kings to play home opener tonight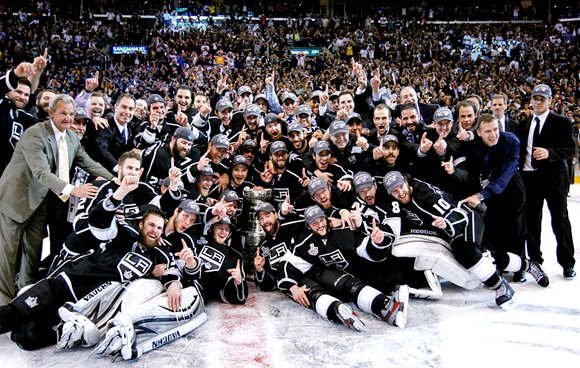 The Los Angeles Kings will begin two season-long fundraising efforts and unveil their new team anthem at tonight's home opener against the New York Rangers at Staples Center.
"Puck-A-Month," a cause-based limited-edition collectible puck series, will give fans the opportunity to participate in a mystery drawing for autographed pucks. The Kings Care Foundation, the team's charitable arm, will begin selling Hockey Fights Cancer pucks at tonight's game.
The foundation will also conduct a season-long raffle with drawings taking place during the last home game of every month and at the final home game of the regular season April 12.
New dining options at Staples Center are the Ludo Bird concession stand and Black Crown Lounge.
Ludo Bird is Staples Center's first chef-owned food stand, owned by Ludo Lefebvre, and will have its grand opening tonight. The stand in the main concourse across from Section 119 will feature buttermilk Provencal fried chicken.
Ludo Bird's menu also includes honey garlic glazed wings, a fried chicken sandwich and popcorn chicken, side orders of "Ludo Slaw," honey lavender biscuits, potato salad and house-made Ludo chips. A sweet and salty ice cream sandwich is available for desert.
The Black Crown Lounge, located across from Section 118 on the main concourse, has a made-to-order hamburger menu.
The San Manuel Club, Staples Center's exclusive restaurant and bar, is undergoing a re-design, with the former "view tables" being upgraded to two distinct seating options this fall. The new Premier Tables are seven exclusive spaces featuring plush living-room style chairs that accommodate four people.
The Premiere Lounges are 18 private mini-suites that each accommodate four guests.
Verizon Wi-Fi will be available for free throughout the arena by selecting Verizon Wi-Fi from the list of available networks.
All 1,400 televisions located throughout Staples Center on the Event Level, Main and Upper concourses, suite levels and inside all suites have been upgraded to full HD capability.
Fans are advised to arrive early for the 7:30 p.m. game and be in their seats for a special in-arena pregame event.
A Fan Fest will be held outside Staples Center beginning at 4:30 p.m. with activities including a beer garden and snowboard simulator.
Tonight's game is the Rangers first at Staples Center since Feb. 2, 2010. The Kings had been scheduled to face the Rangers on Oct. 12, 2012 in their season opener, but the game was canceled because of the league's lockout of its players.
In connection with the NHL's realignment, all the league's teams will play at least once in each of its 30 arenas.
The Kings began the season by splitting two games on the road, defeating the Minnesota Wild, 3-2, in a shootout Thursday, and losing to the Winnipeg Jets 5-3, Friday.