Ex-TSA screener pleads not guilty in LAX threats case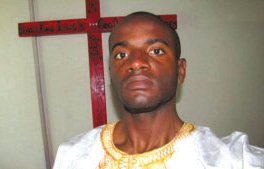 LOS ANGELES, Calif. — An ex-Transportation Security Administration screener pleaded not guilty today to making threats directed at LAX terminals on the eve of the 12th anniversary of the Sept. 11 terror strikes.
Nna Alpha Onuoha, 29, faces federal charges of conveying false and misleading information and making telephonic threats on Sept. 10, shortly after he resigned his TSA job at Los Angeles International Airport.
U.S. District Judge Beverly Reid O'Connell scheduled a Nov. 26 jury trial.
Onuoha, a  Nigerian-born naturalized U.S. citizen who has lived in the United States for eight years, is being held without bond.
According to the six-count indictment, Onuoha returned to LAX shortly after he resigned and left an eight-page letter addressed to a TSA manager, then placed threatening calls to airport officials, demanding the airport be evacuated.
In a call to a TSA checkpoint, Onuoha allegedly stated that the airport should be evacuated immediately, starting with Terminal 2, and that he would be watching to make sure his orders were followed.
At about the same time, Onuoha allegedly called LAX police dispatch and warned that the entire airport should be evacuated immediately, because he was going to "deliver a message to America and to the world."
Prosecutors also allege that Onuoha telephoned the TSA manager to whom he had addressed the eight-page letter and warned that "TSA was running out of time."
A magistrate judge who presided over a detention hearing last month suggested that Onuoha should undergo a mental health evaluation.
"There is nothing rational about what happened here,"  U.S. Magistrate Judge Patrick J. Walsh said.
In ordering him detained pending trial, Walsh said that Onuoha, at the time of arrest, was unemployed, homeless and $15,000 in debt. The defendant had also signaled to his family that "they will never see him again," the magistrate said.
"Has he just snapped or something?" Walsh asked.
Assistant U.S. Attorney Melissa Mills said at the Sept. 16 hearing that Onuoha appeared to be living a perfectly normal life up" until the previous week, when he allegedly caused "havoc to a major international airport."
Onuoha — who had served in Kosovo with the National Guard — was arrested before midnight Sept. 10 in Riverside by members of a joint task force.
He had been forced to resign from his TSA job earlier in the day, following a recent suspension for allegedly criticizing a 15-year-old girl's wardrobe as too skimpy, according to the FBI.
The run-in with the teen made headlines when her father publicized it on his blog.