President Obama slams "reckless Republican shutdown"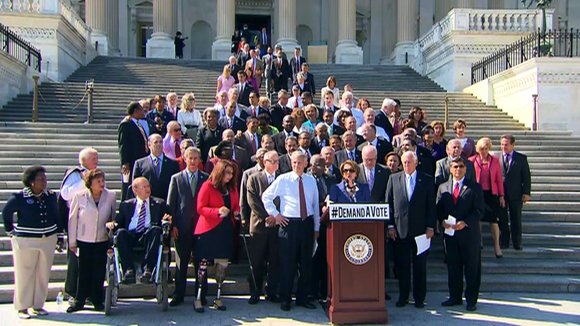 Obama challenges Boehner to allow 'yes-or-no vote' on shutdown
While Boehner's comments suggest hope toward some common resolution on the debt ceiling, the government shutdown is another matter entirely.
The two sides appeared no closer to an agreement Thursday, the third day of the shutdown that comes because Congress failed to agree on a budget plan to send to President Barack Obama. In fact, they appeared to dig in — insisting their approach is best and that the other was to blame for the 800,000 workers at risk of furloughs, shuttering of national parks, loss of funding for various programs and other effects of the shutdown.
A conservative GOP wing has demanded that any spending measure include provisions to dismantle or defund Obamacare, which became law in 2010 and was upheld by the Supreme Court last year.
As he's done before, Obama on Thursday challenged Boehner to stop what he called Republicans "reckless" strategy of refusing to pass the "clean" spending bill — which doesn't have provisions targeting the president's signature health care reform, the Affordable Care Act, like several passed by the GOP-led House — and instead pushing measures to fund popular programs on a one-by-one basis.
The president said the spending initiative passed by the Democratic-led Senate would pass the House with support from Democrats and some Republicans, except that Boehner won't allow the vote.
"The only thing that is keeping the government shut down, the only thing preventing people from going back to work, and basic research starting back up, and farmers and small-business owners getting their loans — the only thing that's preventing all that from happening right now today, in the next five minutes, is that Speaker John Boehner won't even let the bill get a yes-or-no vote because he doesn't want to anger the extremists in his party," Obama said.
Senate Majority Leader Harry Reid was part of the Democratic chorus Thursday, accusing Boehner of reneging on an agreement to let the House vote on a "clean" spending package of $988 billion, $70 billion less than Democrats wanted). Boehner went back on that deal, Reid surmised in an interview with CNN's Dana Bash, because he feared fellow Republicans would turn on him and oust him from his position as House speaker.
"His job is not as important as our country," Reid said. "... He has to have some courage."
Cantor: GOP should stand its ground
GOP Rep. Michael Grimm said Thursday night that "very, very arrogant and very obstinate" remarks by Reid and what he calls a lack of needed leadership from Obama undermines the chances of reaching a deal.
"If you're going to be insulted ..., and if you're going to be spoken down to, and there's going to be this air of arrogance, you're only going to make things worse," Grimm, of New York, told CNN's Anderson Cooper.
While Grimm and a few other moderate Republicans have backed a "clean" spending bill without anti-Obamacare provisions, some of his colleagues in the House say the party won't budge from their strategy. Rep. Tim Huelskamp of Kansas, for one, described his caucus as "very unified" and said Reid and Obama are "confused" if they think "we're going to fold and let them win on everything."