President Obama slams "reckless Republican shutdown"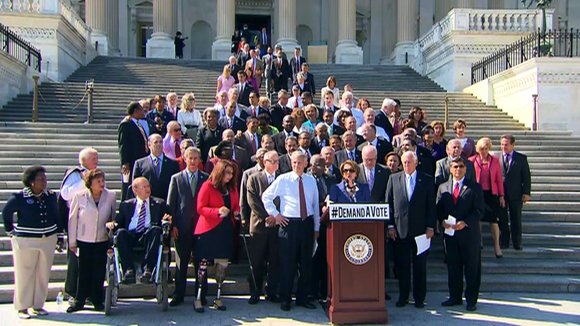 The federal government may not be hit with a double whammy on top of the ongoing shutdown, as House Speaker John Boehner told a group of fellow GOP legislators that he won't let the nation default on its debt, according to a House Republican.
Boehner said that he'd set aside the "Hastert Rule" — that Republicans would only bring measures up for a vote if they are backed by a majority of their caucus — and rely on Democrats to pass a measure to raise the nation's debt limit, said the House member. This legislator attended a meeting Wednesday involving Boehner, but requested anonymity because that gathering was private.
Congressional Republicans remain divided on how to structure legislation to raise the government's borrowing level. And an aide to the House speaker downplayed the development, saying, "Boehner has always said the United States will not default on its debt, so that's not news."
Still, at least one Democrat — Sen. Charles Schumer of New York — cheered the prospect of the GOP leader refusing to block at least this measure that President Barack Obama and his fellow Democrats strongly support.
"This could be the beginnings of a significant breakthrough," Schumer said in a statement. "Even coming close to the edge of default is very dangerous, and putting this issue to rest significantly ahead of the default date would allow everyone in the country to breathe a huge sigh of relief."
The Ohio Republican's vow comes exactly two weeks before the government is set to run out of money to cover its roughly $16.7 trillion debt, unless Congress agrees to lift the so-called debt ceiling. That had long been routine in Washington — until recently, that is, when conservative Republicans have pushed not to allow more borrowing without significant cuts.
Boehner himself wrote earlier this week in USA Today that "there is no way Congress can or should pass (a debt ceiling hike) without spending cuts and reforms to deal with the debt and deficit and help get our economy moving again." He accused President Barack Obama of refusing to negotiate; Obama and fellow Democratic leaders have since said they are open to talks on any and all budgetary matters, but only after the government is reopened.
Yet Boehner's comments signal that, at least on the debt ceiling issue, he's willing to allow a vote on a measure backed by top Democrats but not most Republicans in his chamber — something he's refused to do with a Senate-passed measure to reopen the federal government, without any add-ons.
Chief among those Democrats is Obama who, for all his strong rhetoric on ending the government shutdown, has said that avoiding a federal debt default is an even bigger necessity. He's insisted Congress pass such a measure, as is, without tying it to anything else.
"As reckless as a government shutdown is, an economic shutdown that results from default would be dramatically worse," the president said in a speech Thursday in Rockville, Maryland. "There will be no negotiations over this."